Grand
Costumes from the Dame Joan Sutherland Collection
Australian Performing Arts Collection, Arts Centre Melbourne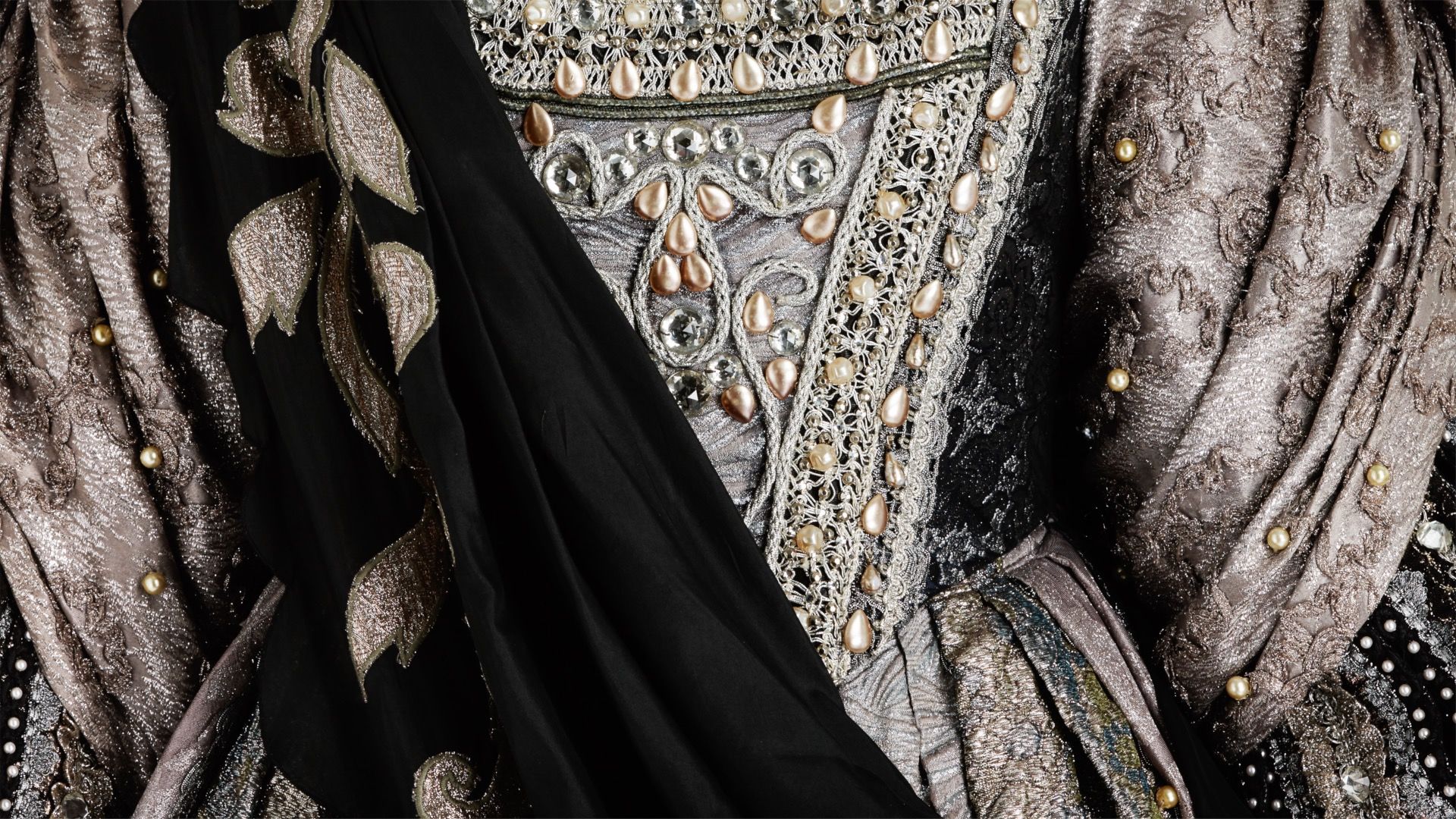 The Collection
In 2019, the Australian Performing Arts Collection (APAC) welcomed an exciting donation of costumes worn by Dame Joan Sutherland from Opera Australia. Comprising 30 complete costumes, the collection spans the breadth of Sutherland's expansive repertoire and includes gowns, head pieces, jewellery, wigs and shoes from over three decades on the world stage.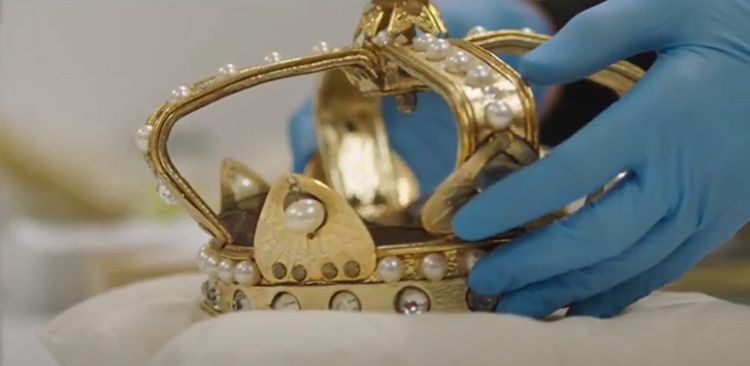 The collection captures many of Sutherland's most recognisable roles such as Violetta in La Traviata, Marguerite de Valois in Les Huguenots and the title role in Lucia di Lammermoor. It also highlights the work of leading international designers such as Michael Stennett and José Varona as well as Australian designers including Desmond Digby, Kristian Fredrikson, Kenneth Rowell and John Truscott.
Grand is presented as an introduction to the Joan Sutherland Costume Collection. Through Sutherland's costumes for Semiramide (1965), The Tales of Hoffmann (1974), Lakmé (1976) and Lucrezia Borgia (1977), we learn more about historic performances from a golden age of opera. We also explore alternative methods of capturing the collection through 3D scanning and photogrammetry and reveal what it takes to collect and preserve this extraordinary legacy.
"Dame Joan has played such a significant role in my life. It would be impossible to overstate the influence this great artist has had on me."
Dame Joan Sutherland OM, AC, DBE
Australia
Born in Sydney in 1926, Joan Sutherland was encouraged to sing by her mother, a talented mezzo soprano. At 19 she began formal training with John and Aida Dickens and performed in concerts, oratorios and broadcasts around Australia, winning the Sun Aria competition in 1949 and the Mobile Quest in 1950. She left Australia in 1951 to study at the Royal College of Music in London and became a member of the Company of the Royal Opera House at Covent Garden in 1952.
London
Sutherland appeared in a number of lead roles with the company over the next six years including Amelia in Un Ballo in Maschera and Antonia in The Tales of Hoffmann. Her first performance in the title role of Lucia di Lammermoor in 1959 brought her international acclaim and in 1960, her debut at the Teatro La Fenice in Venice earned her the title of "La Stupenda".
The World
Having launched an international career, Sutherland went on to fill opera houses around Europe and the United States expanding her repertoire to include works such as La Sonnambula, La Traviata, La Fille du Régiment and Die Fledermaus. She also made regular appearances in Australia including a 14 week tour with the Sutherland-Williamson International Grand Opera Company in 1965, alongside the young Luciano Pavarotti.
The Legacy
Sutherland's husband, conductor Richard Bonynge, became Musical Director of The Australian Opera (now Opera Australia) in 1976 and over the next ten years the pair played a pivotal role in elevating the company's profile internationally. Joan Sutherland was awarded a DBE in 1975 in recognition of her outstanding contribution to opera and retired from the professional stage in 1990. She passed away at her Geneva home on 10 October 2010.
Photograph of Joan Sutherland in I Puritani, Covent Garden, London, 1964. Photographer unknown. Courtesy of the Joan Sutherland and Richard Bonynge Foundation.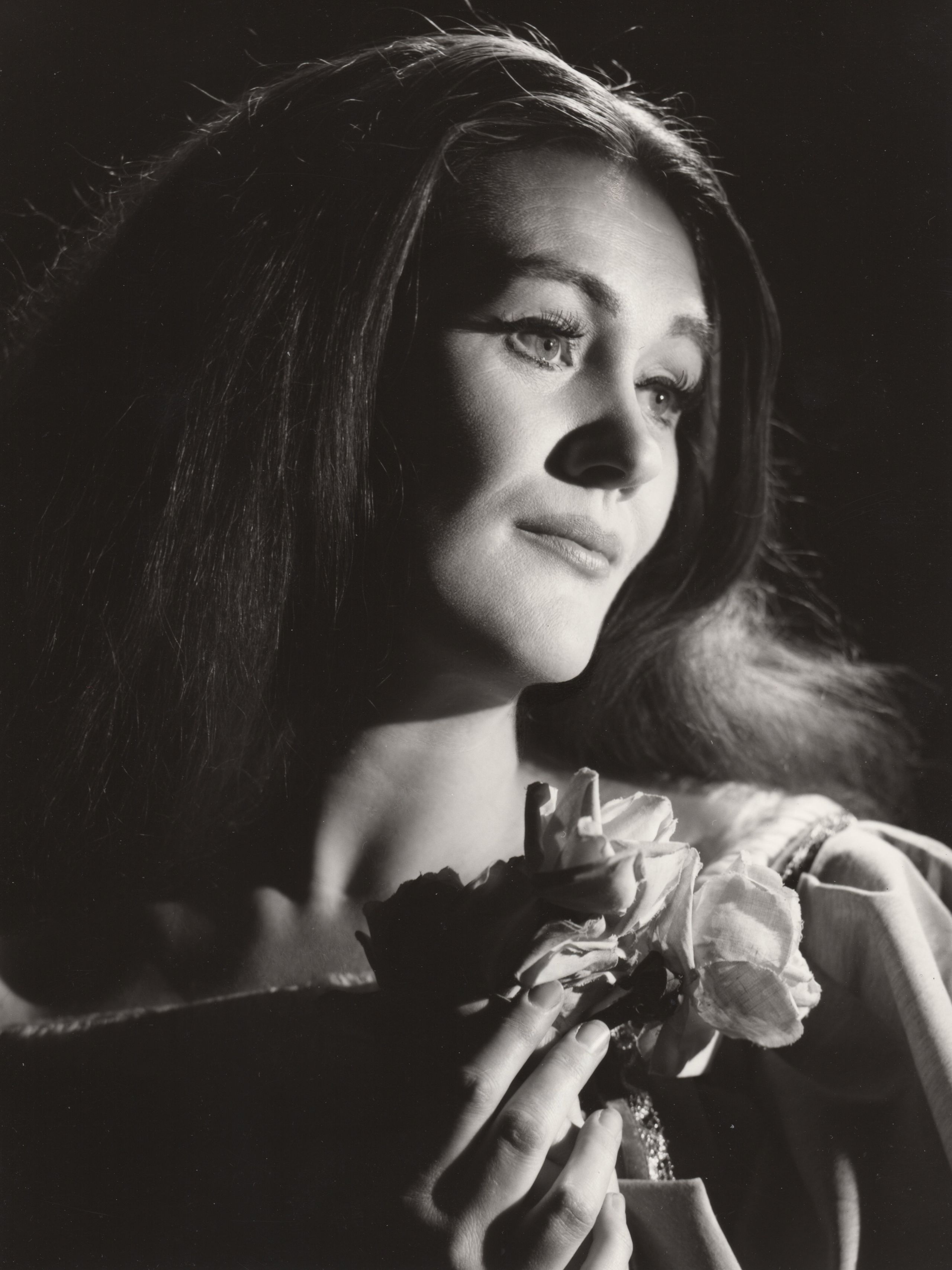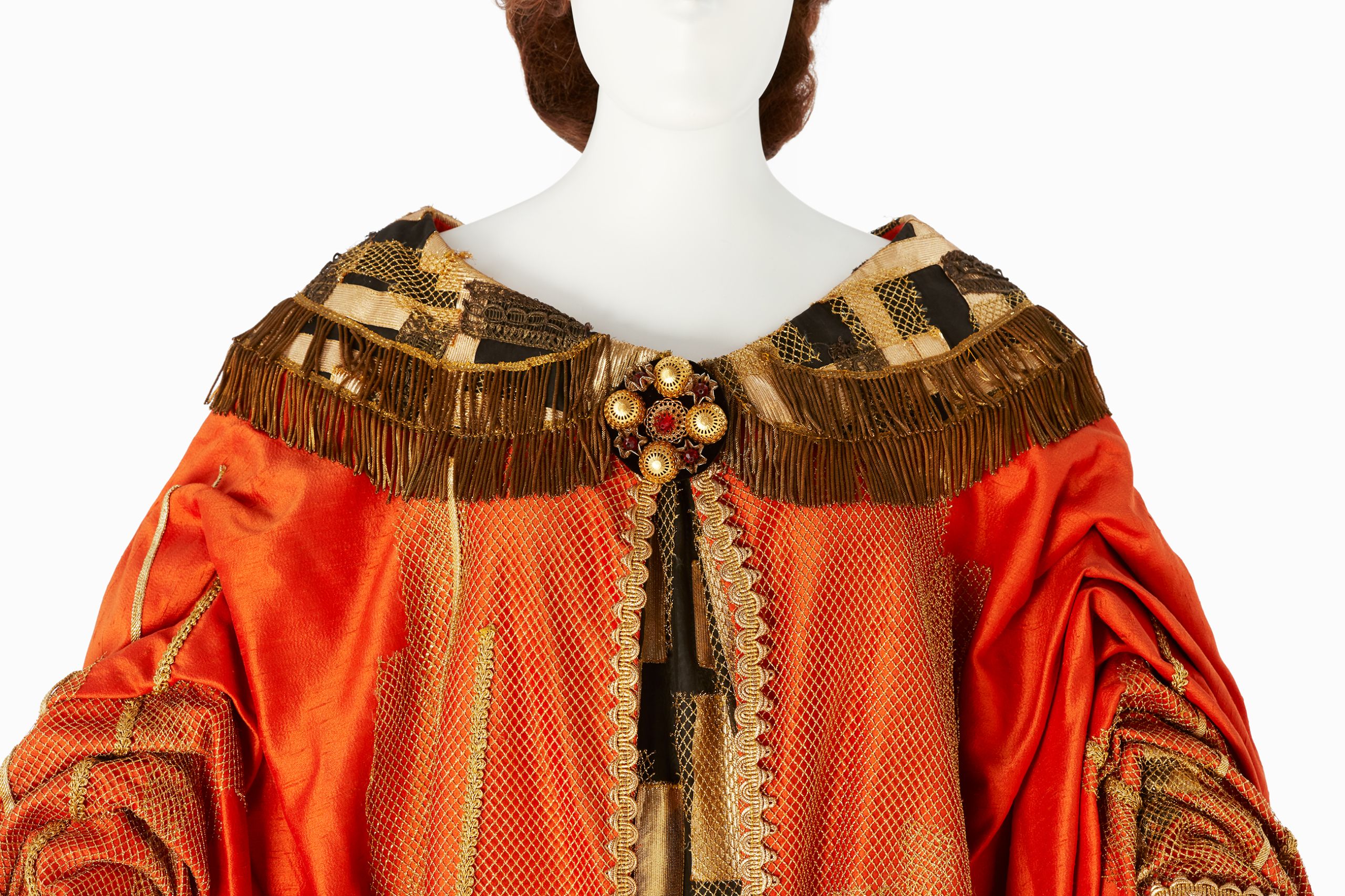 Costume for the title role in Semiramide, Boston Opera and Sutherland-Williamson International Grand Opera Company, 1965.
Designed by Fred Voelpel and made by Barbara Matera.
Gift of Opera Australia, 2019
Australian Performing Arts Collection
Arts Centre Melbourne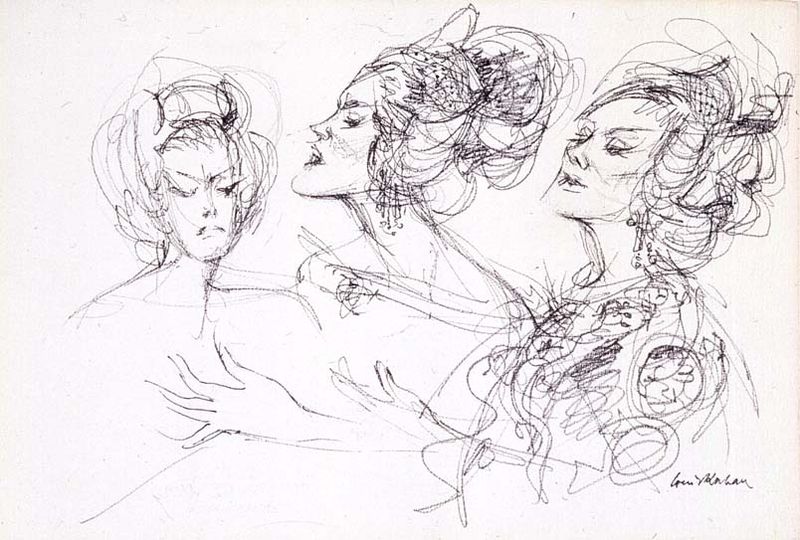 The Role
Joan Sutherland revived the role of Semiramide at La Scala in 1962. This was the first time it had been performed on that stage in 80 years. Semiramide was one of many works from the Italian bel canto repertoire that she helped re-establish during her career. Sutherland went on to perform the role in a number of concert performances in Los Angeles and New York and in a production with the Boston Opera before introducing the work to Australian audiences in 1965.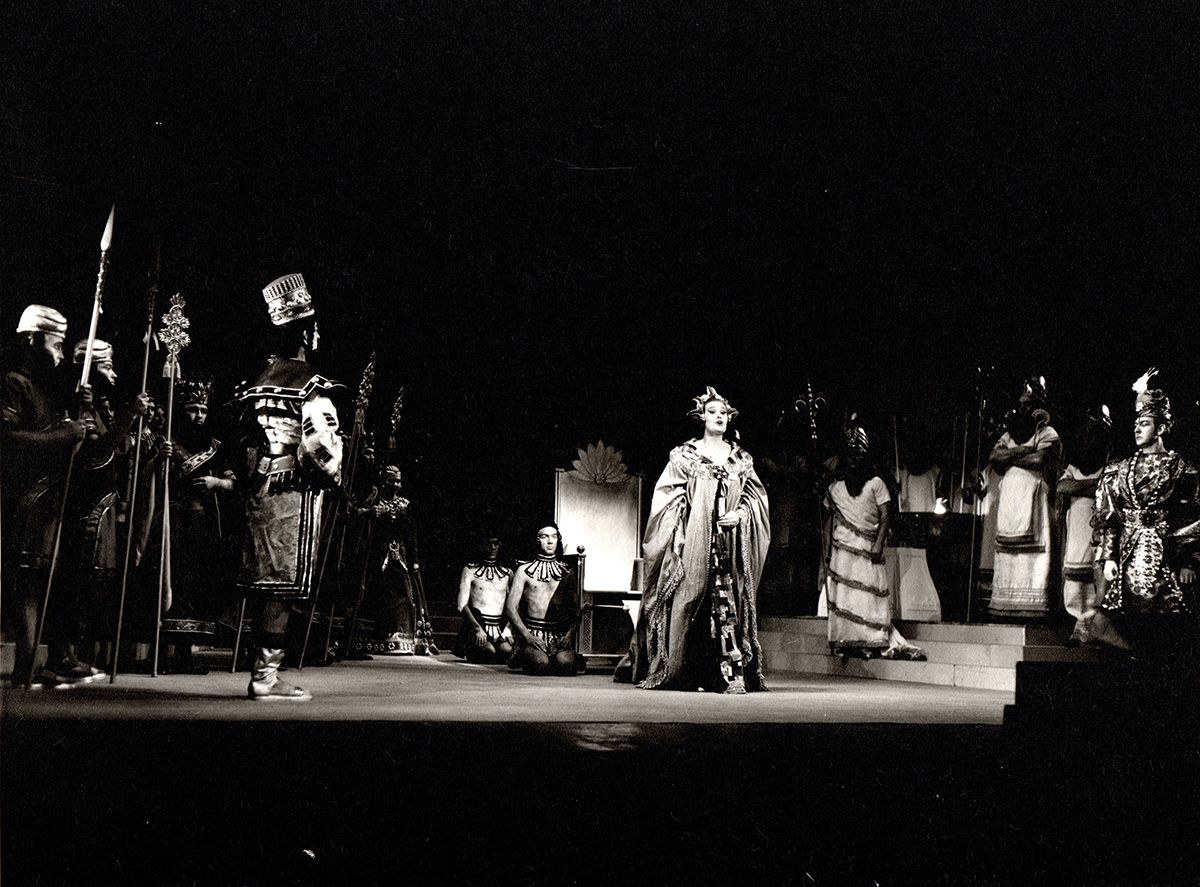 The Production
Semiramide was one of five operas Sutherland performed in as part of the Sutherland-Williamson International Grand Opera Company tour of Australia in 1965. Sir Frank Tait (Managing Director of J. C. Williamson Theatres Ltd.) produced the tour as a triumphant homecoming for Sutherland and many years went into planning this significant cultural event. As Artistic Director, Richard Bonynge engaged a team of world renowned principals and internationally acclaimed Australian artists. One of the principals was Luciano Pavarotti, a young tenor from Modena.
"We have for years (ever since her first triumphant "Lucia") wanted to bring Joan Sutherland to Australia as the prima donna of an opera company. That we are doing so whilst she is at the very zenith of her career gives the greatest satisfaction."
The Costume
This costume was originally designed by Fred Voelpel and made by Barbara Matera for the Boston Opera's production of Semiramide in 1965. A total of seven operas were programmed for the Sutherland–Williamson season and Australian-born designer Tonina Dorati was commissioned to create the set and costumes. In an effort to save time, the decision was made to re-use Voelpel's costumes for the tour. Made from several metres of heavy silk, this costume is more free-flowing than those normally worn by Sutherland. She enjoyed the process of working with designers to ensure a comfortable and flattering outcome and later favoured a long fitted bodice to perform in.
The Maker
UK-born Barbara Matera received her early training in the workroom of the Royal Opera House at Covent Garden from the late 1940s. She moved to the US in 1960 and established the Barbara Matera Costume Shop, which became a legendary source of costumes for companies such as the Metropolitan Opera and the New York City Ballet as well for Broadway, film and television.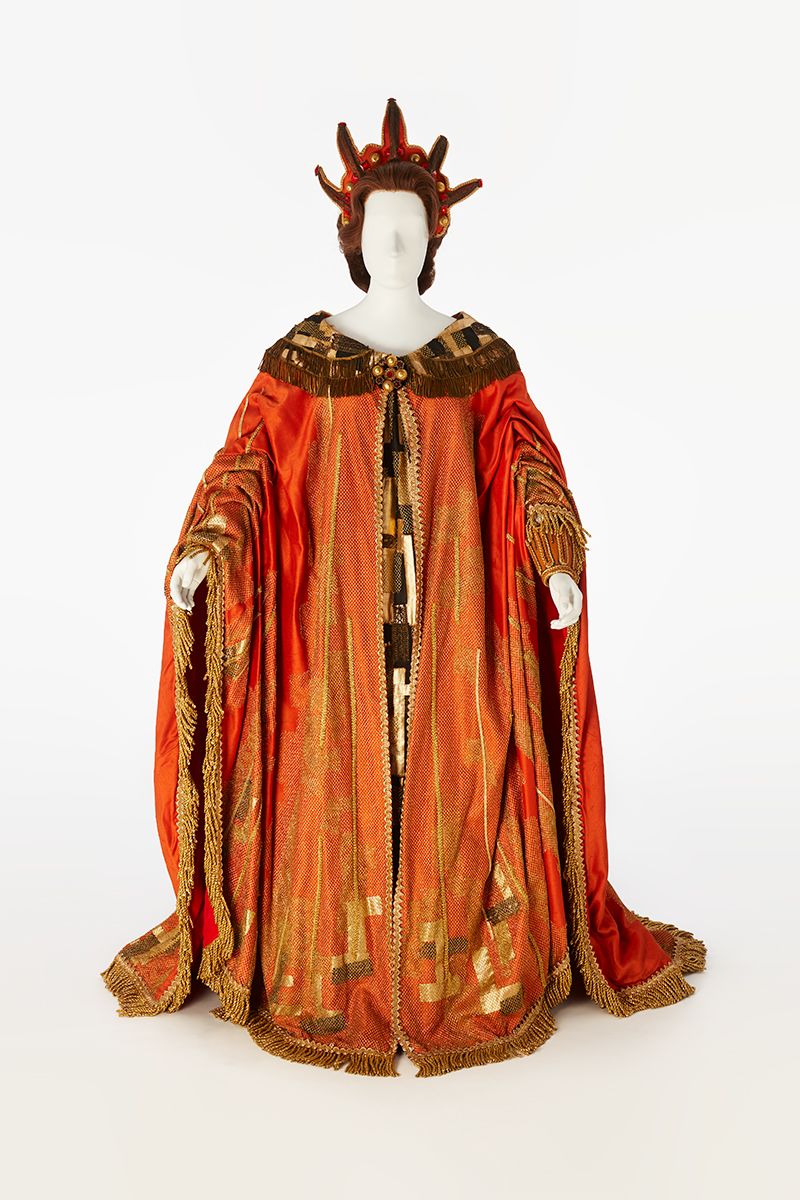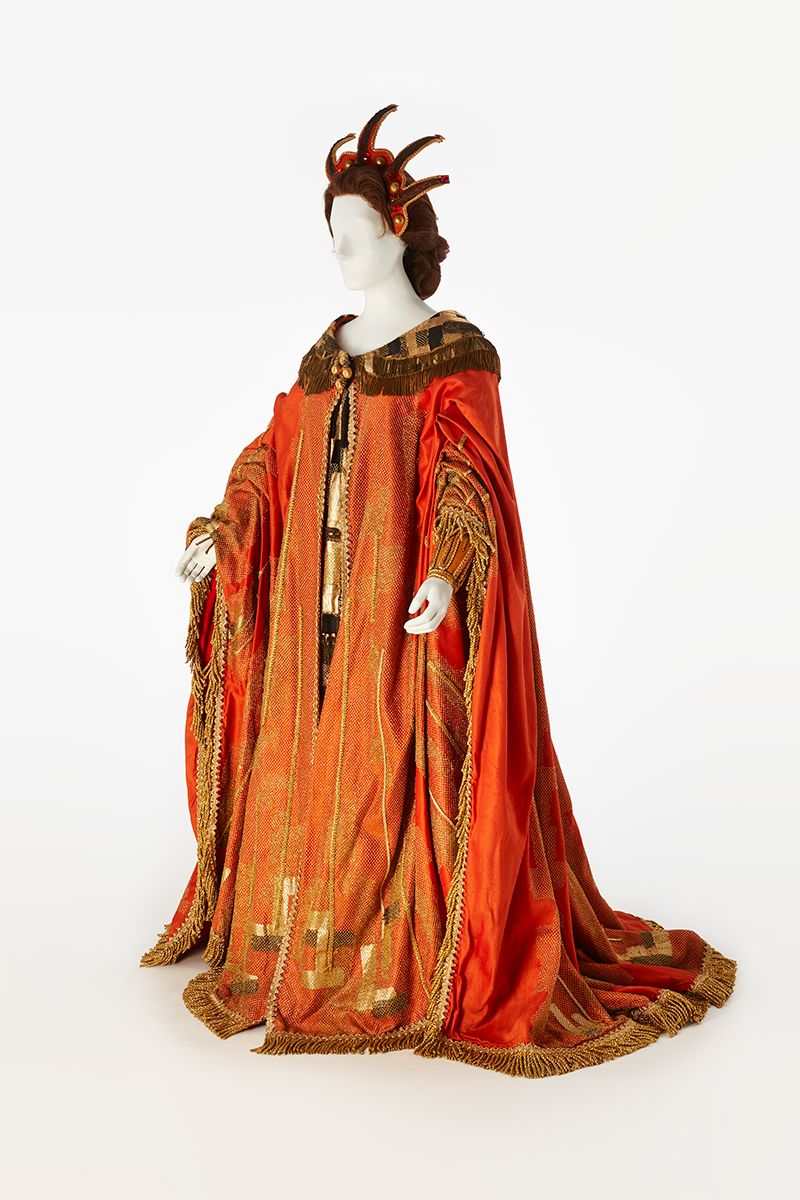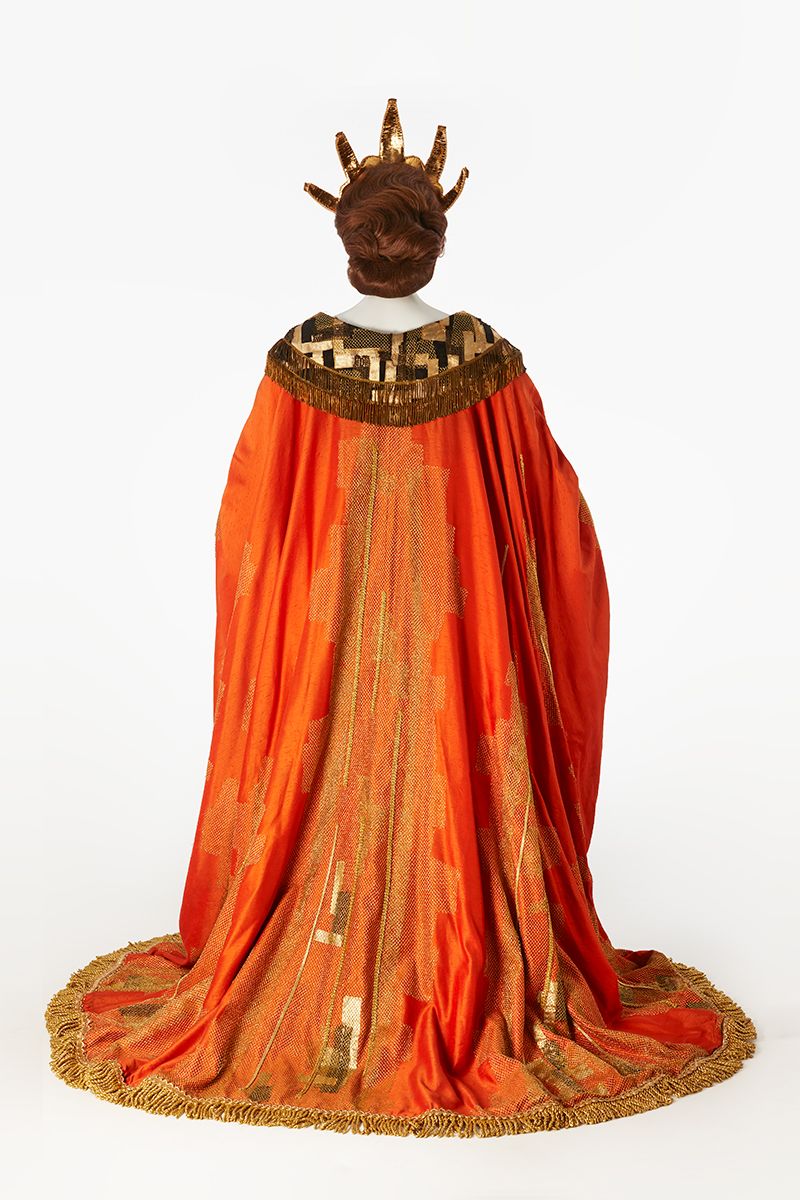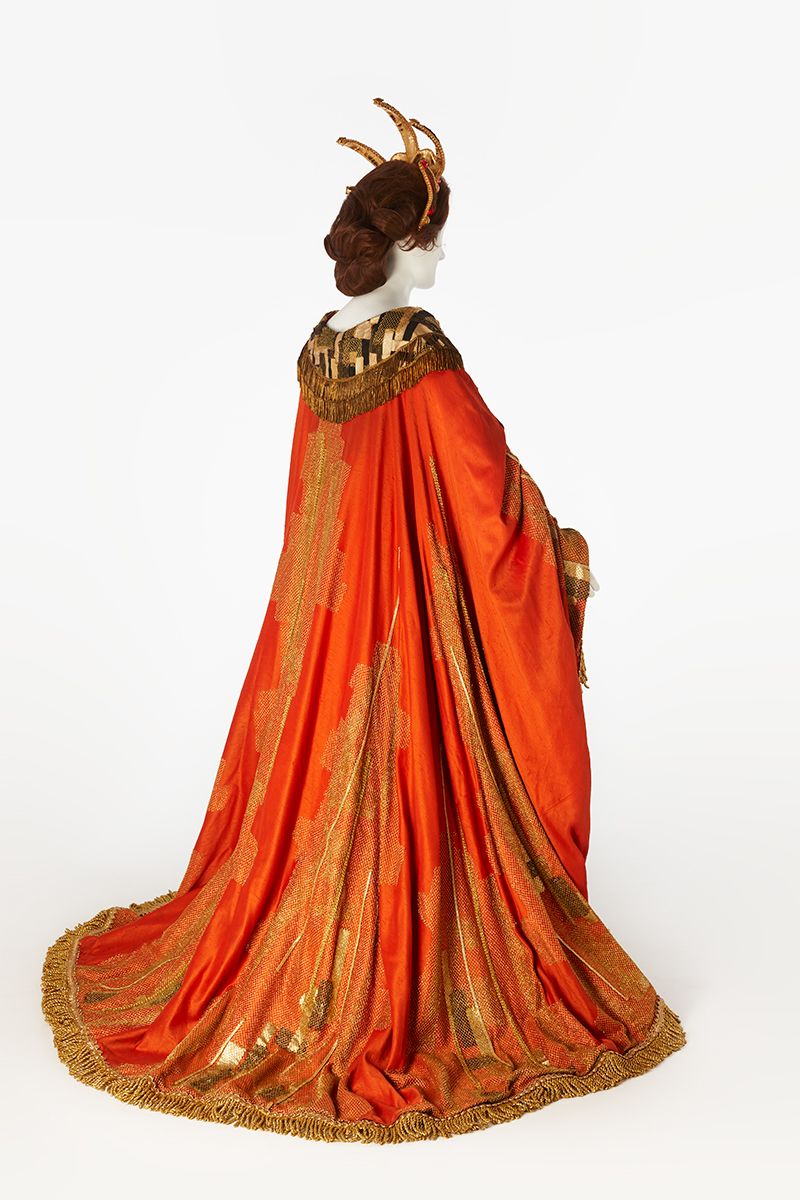 "In the nearly forty years I have been performing, I have been very fortunate to wear what I feel are some of the most beautiful costumes I have ever seen."
"I had been bowled over by Barbara's expertise and requested that she make my costumes on every occasion.
She also took over making my concert gowns in due course, continuing to do so until I retired."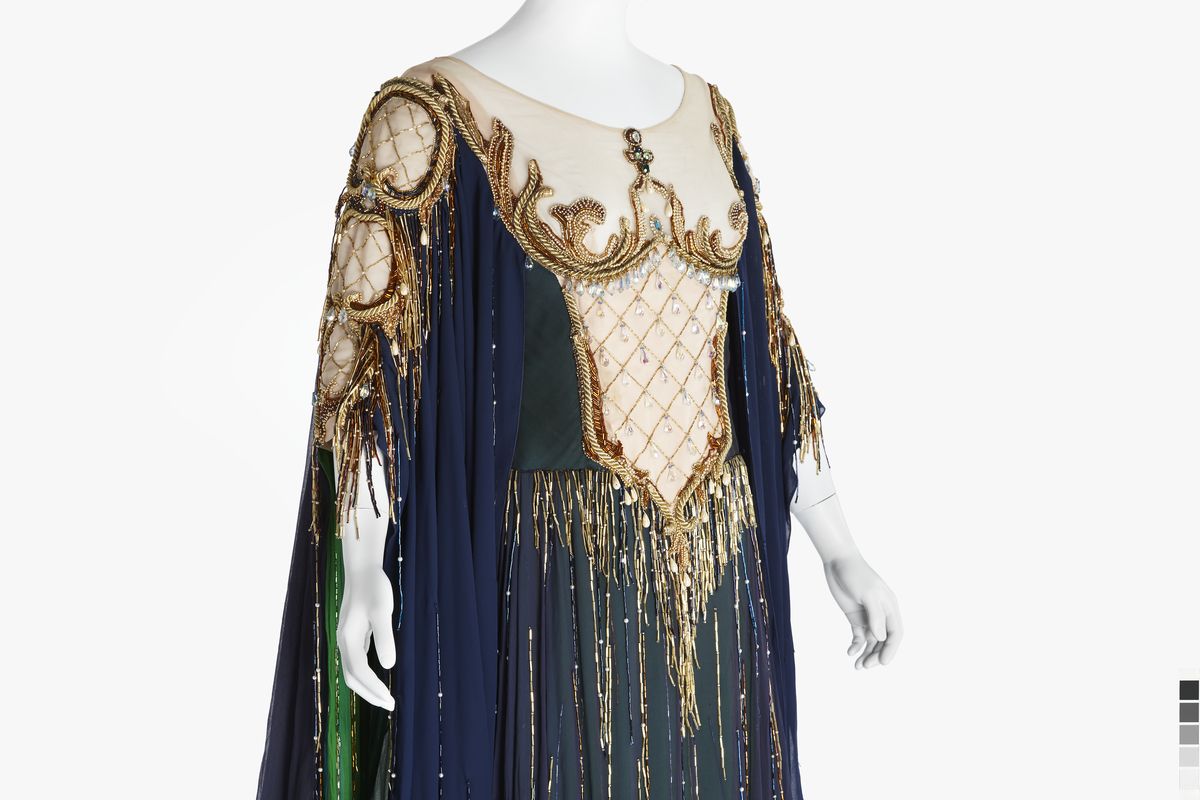 Costume for Giulietta in The Tales of Hoffmann, The Australian Opera, 1974.
Designed by José Varona and made by Barbara Matera.
Gift of Opera Australia, 2019
Australian Performing Arts Collection
Arts Centre Melbourne
The Role
Joan Sutherland performed all four soprano roles - Olympia (the doll), Giulietta (the courtesan), Antonia (the young girl) and Stella (the opera singer) - in this production of The Tales of Hoffmann. Playing the four roles is particularly challenging as they are diverse parts to act and sing. The costume changes for each role also require careful planning as the characters need a complete change of make-up as well.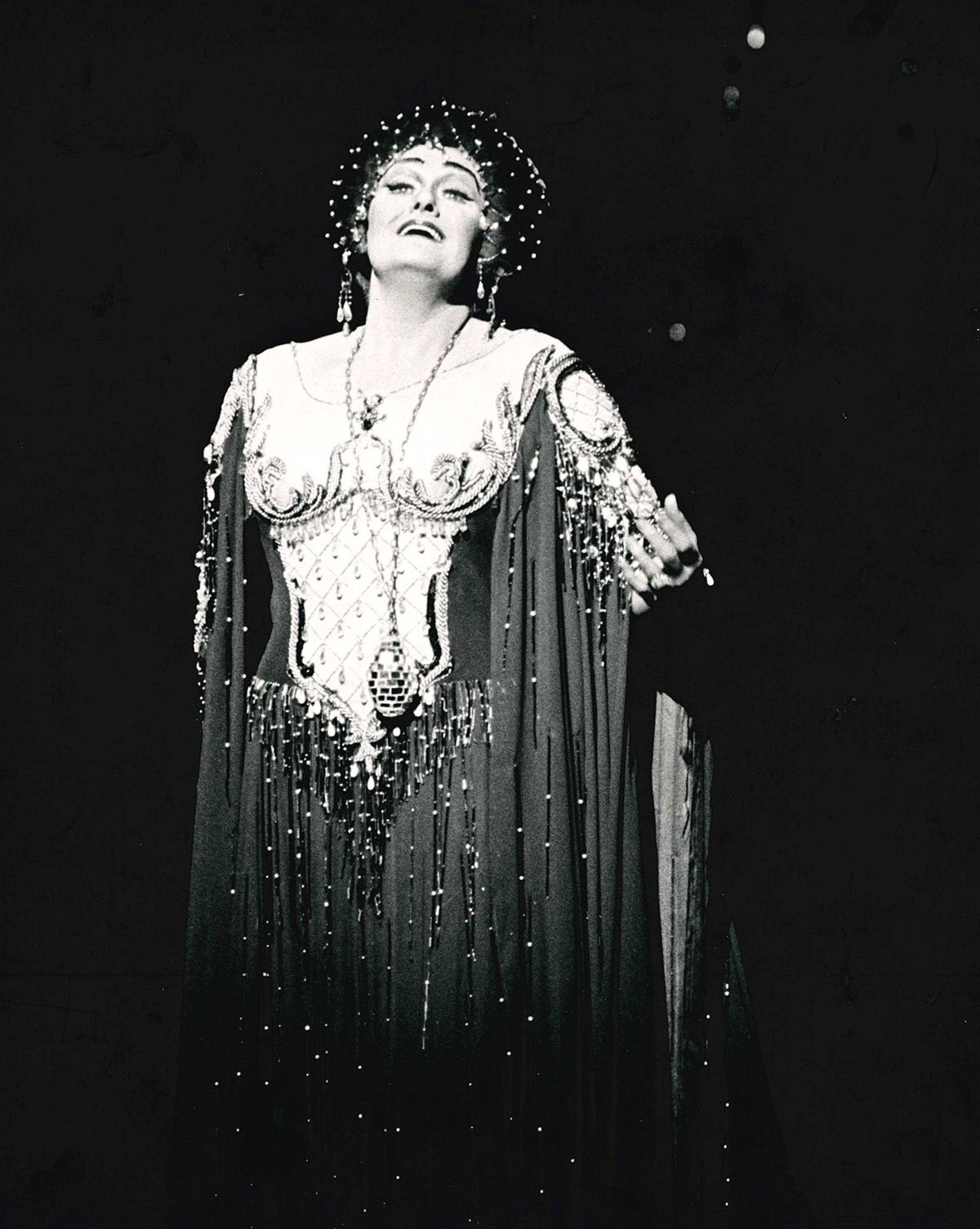 "My José Varona-designed costumes helped me enormously to assume the various personalities I portrayed."
The Production
This production brought Joan Sutherland home to Australia and onto the stage of the newly built Sydney Opera House after an absence of almost ten years. Argentinian born director Tito Capobianco and designer José Varona were Richard Bonynge's choice for this new production as they had worked together on previous occasions for the San Francisco Opera. It was a huge success for The Australian Opera and proved to be the beginning of an association that would ultimately lead to Bonynge taking on the role of Musical Director for the company in 1976.
"Joan was a great international star, but Hoffmann proved that she could also be a true ensemble artist and generous colleague."
The Costume
Sutherland's costumes were originally designed by José Varona for a production of The Tales of Hoffmann in Seattle in 1970, which was re-staged by the Metropolitan Opera in 1973 and 1974. For The Australian Opera's production in 1974, Varona designed a "daring" new costume for the role of the courtesan Giuletta, emphasising the character's seductive qualities. Varona's use of flesh coloured net in the bodice created a semi-topless effect that was a radical departure from Sutherland's previous costumes.
"Joan was quite petrified of the costume but rather enjoyed it when she realised the overall glamorous effect, and wore it with authority."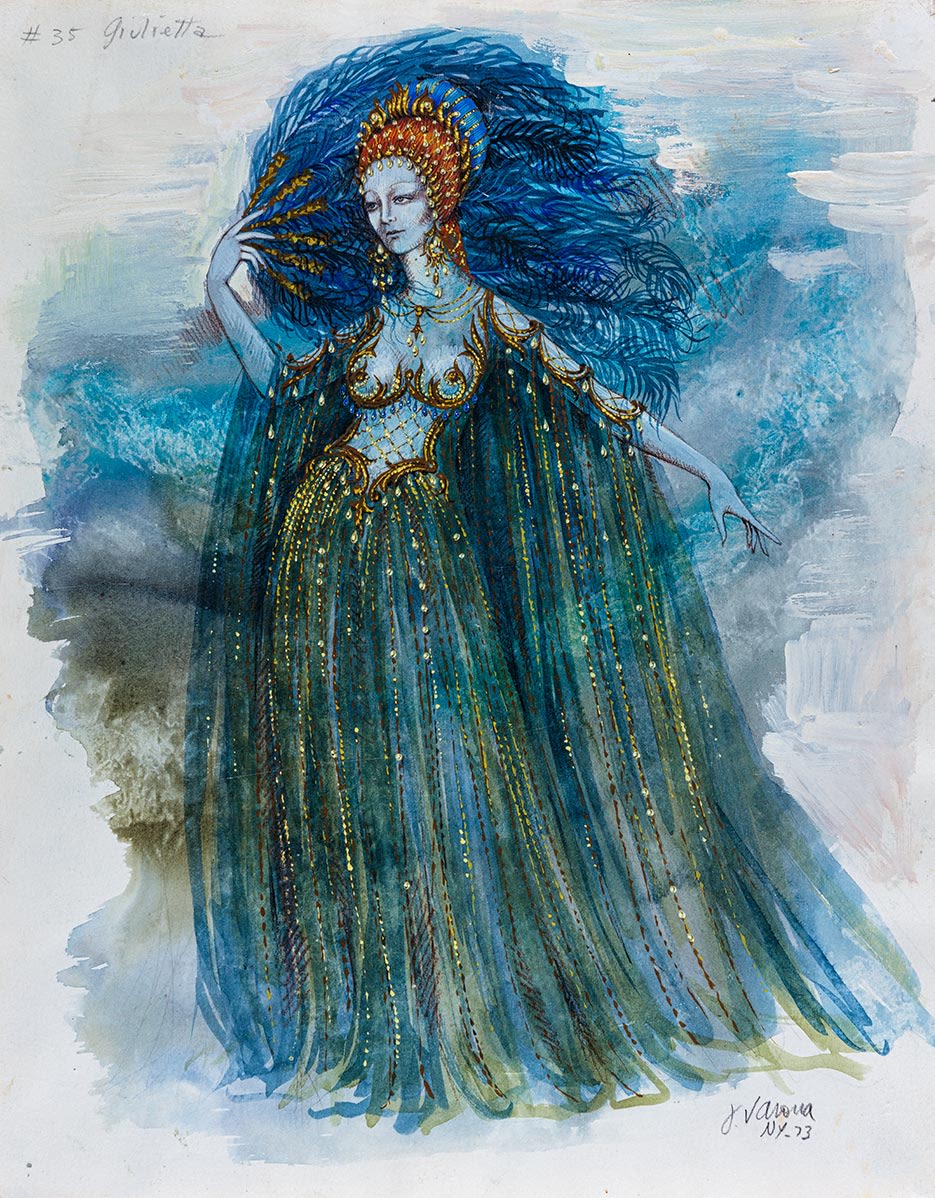 The Designer
Born in Argentina, José Varona began his career as a designer during the 1950s. He moved to America in 1962 and worked predominantly across ballet and opera with leading companies around the world. Varona designed many of Sutherland's most spectacular costumes, which were then realised by Barbara Matera.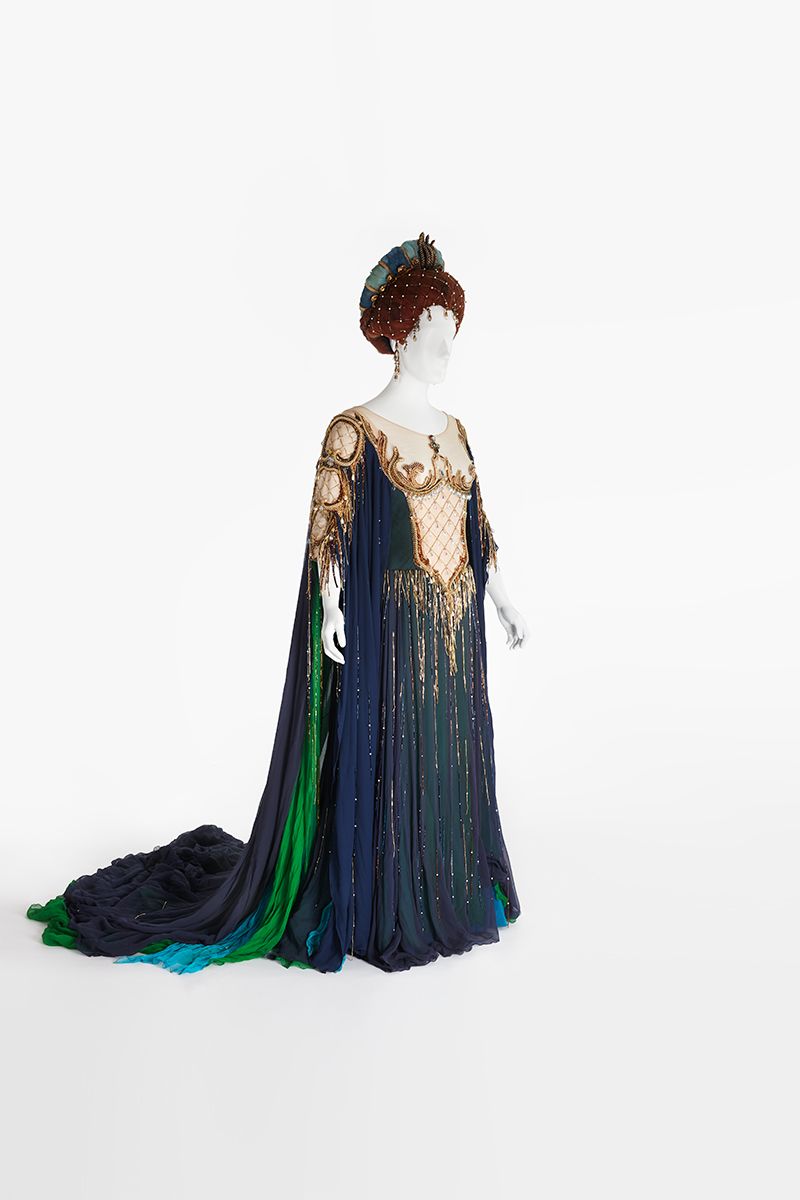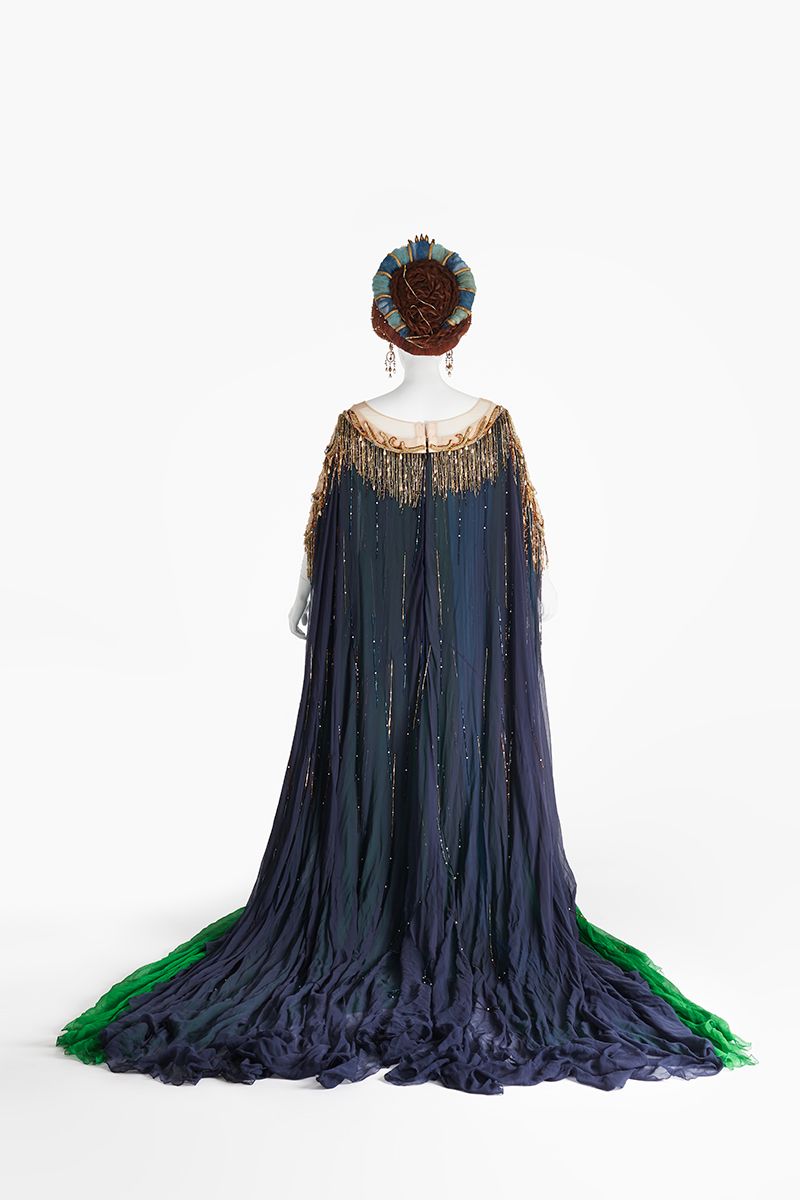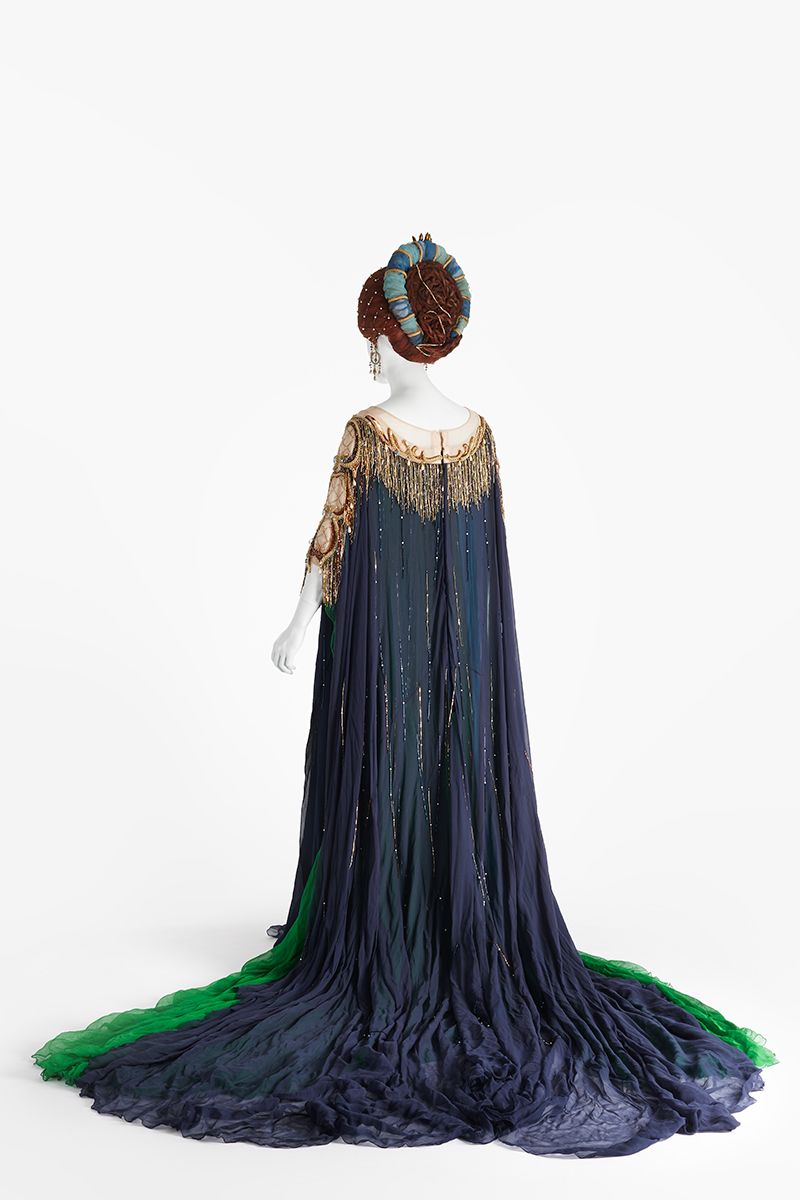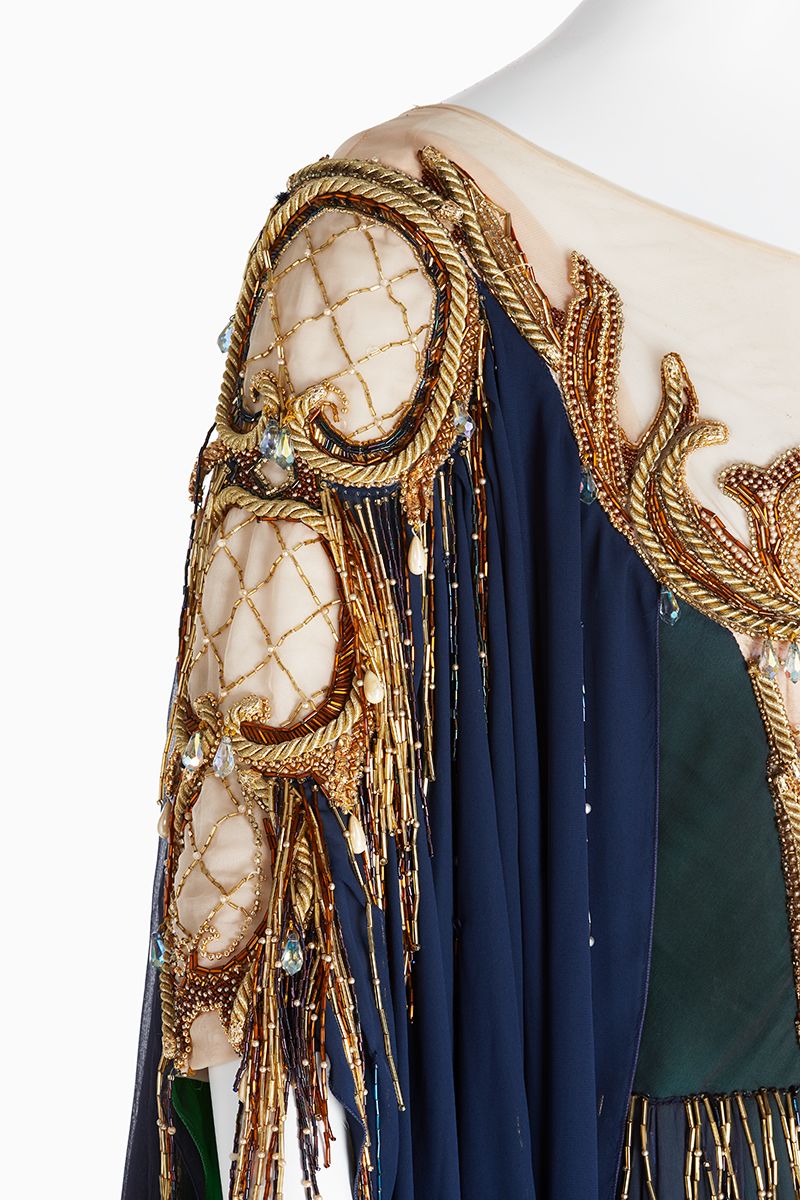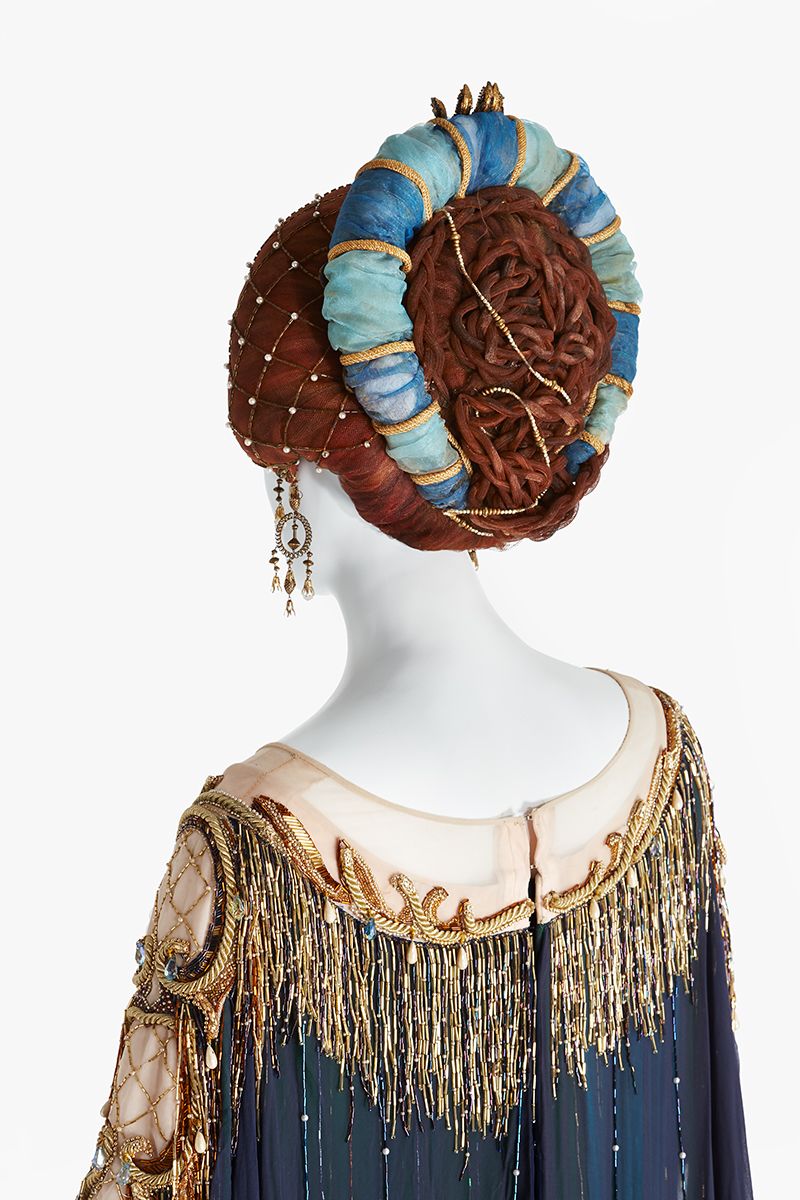 "Then there are the elaborate finishing touches like gossamer-fine overlays and floating, misty veils and the gorgeous beading and embroidery to add just a little more depth – and weight! – to the final picture."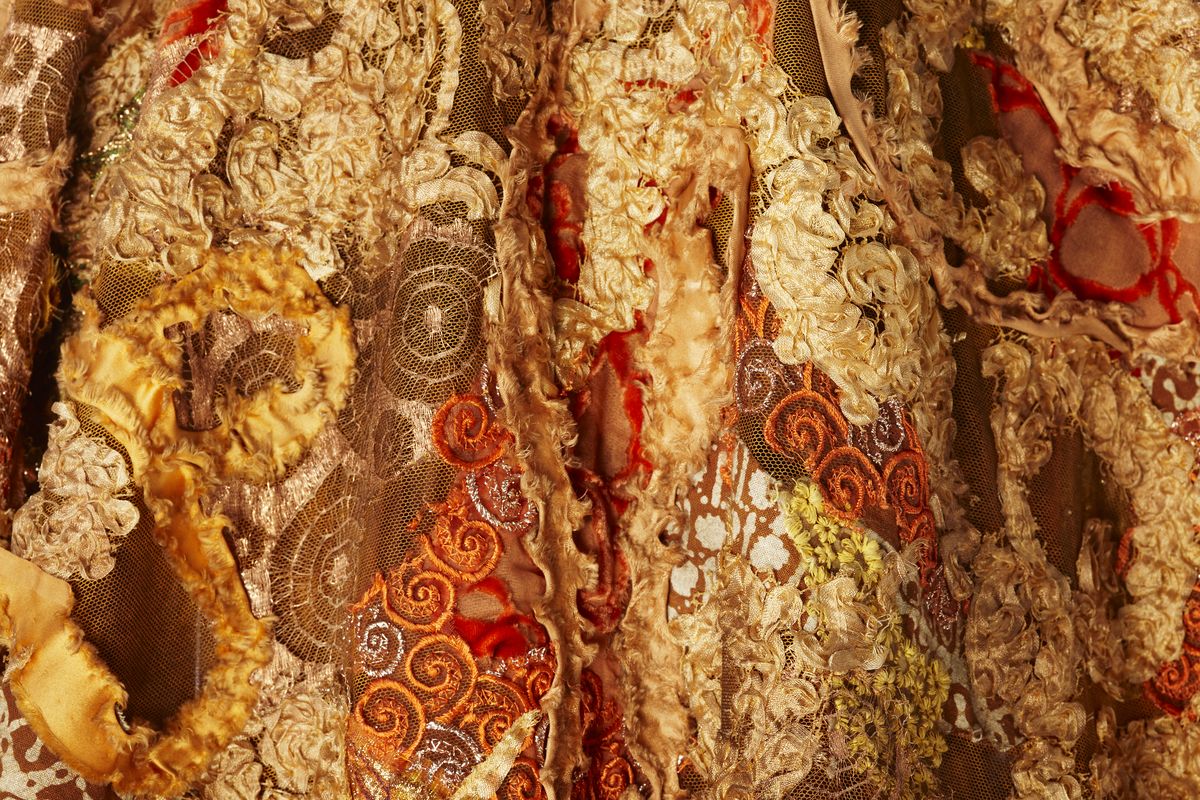 Costume for the title role of Lakmé,
The Australian Opera, 1976.
Designed by Desmond Digby and made by Barbara Matera.
Gift of Opera Australia, 2019
Australian Performing Arts Collection
Arts Centre Melbourne
The Role
Joan Sutherland first sang the role of Lakmé in Seattle in 1967 and again in Philadelphia in 1968. Set in 19th century India, this tragic love story unfolds amidst troubled times under the British Raj. The opera is performed in French and is technically challenging throughout. It is most famous for the Flower Duet in Act One and the Bell Song in Act Two.
The Production
The Australian Opera mounted a lavish new production of Lakmé for Joan Sutherland in 1976. This was English director, Norman Ayrton's first production with The Australian Opera and he worked closely with designer Desmond Digby to emphasise the story's clash of cultures. Digby created both the set and costumes for this production. His detailed vision was meticulously applied from the intricacies of Sutherland's jewellery and how it was to be removed, to the full scale boat she was transported on through a lush Indian jungle in the first act.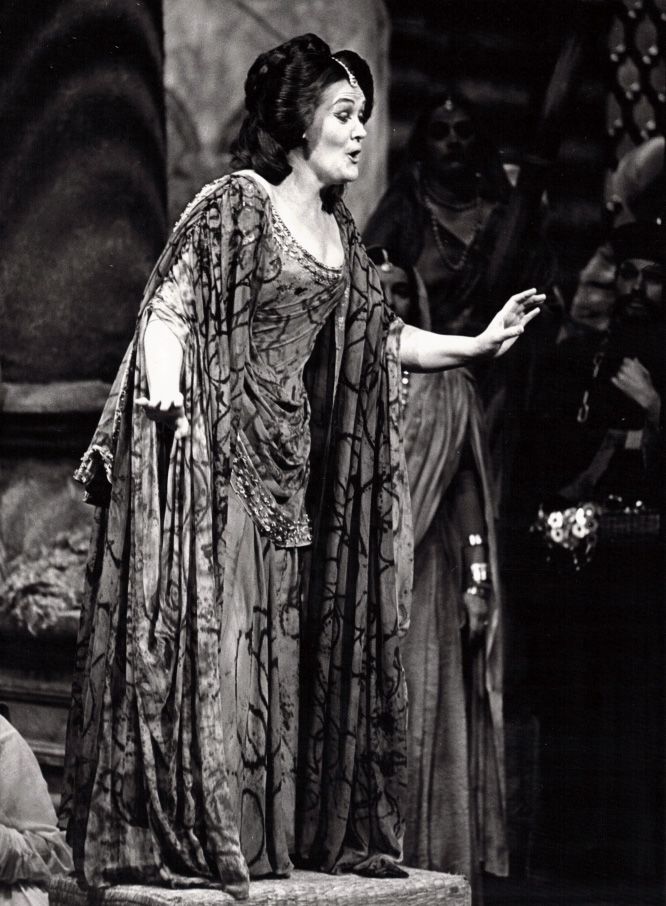 The Costume
Designed for the famous Bell Song in Act Two, the gown for this costume incorporates intricate dye-work and flecks of metallic gold paint. There were twelve dressmakers, five cutters and a tailor working across The Australian Opera's season in 1976. Their efforts were needed for the many chorus and principal roles, while Sutherland's costumes were made by Barbara Matera. She attended fittings with Matera in between performances of I Puritani at the Metropolitan Opera. This is one of only two costumes that remain from the entire production as the rest were destroyed in a workshop fire.
The Designer
Desmond Digby was born in Auckland, New Zealand. He moved to London in 1955 to study theatre at the Slade School of Art before making his home in Australia in 1959. He worked as a costume and set designer for a number of companies including the Australian Elizabethan Theatre Trust, The Australian Opera and The Australian Ballet. Digby was also a painter and book illustrator, for a variety of publications such as Bottersnikes & Gumbles and Waltzing Matilda.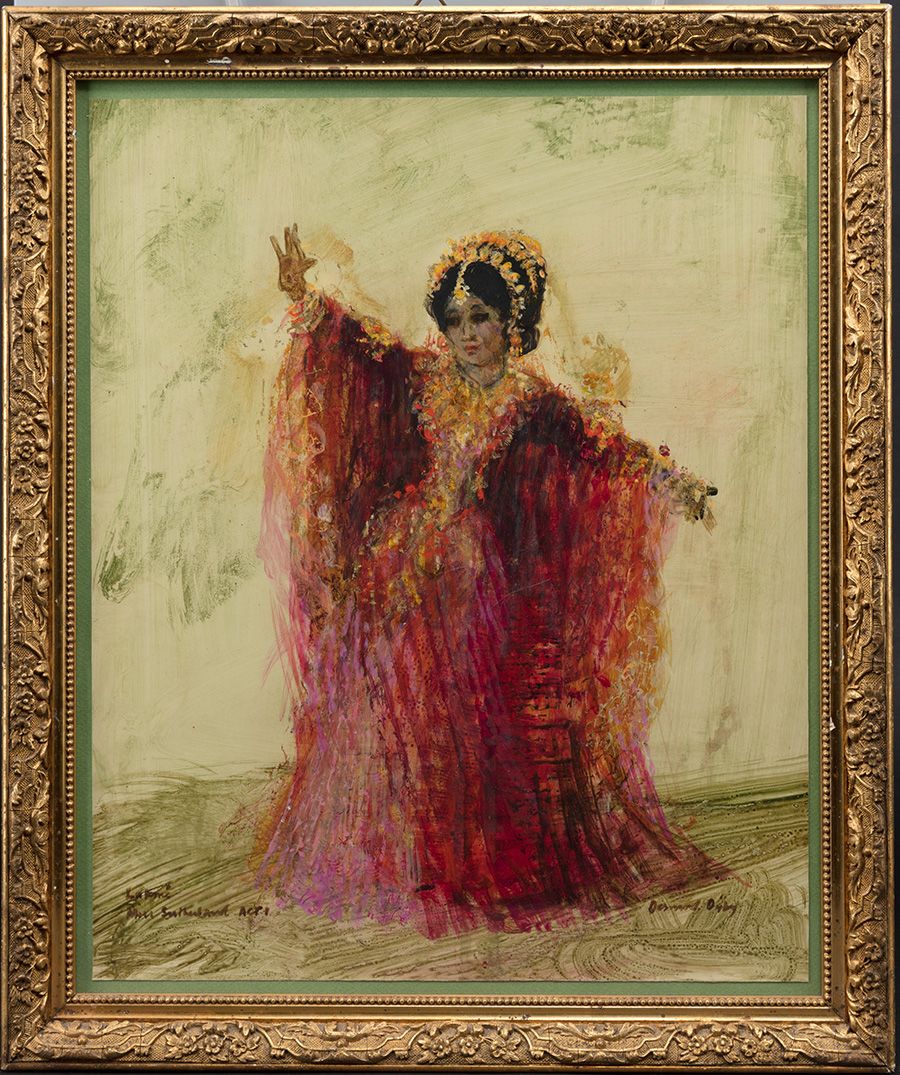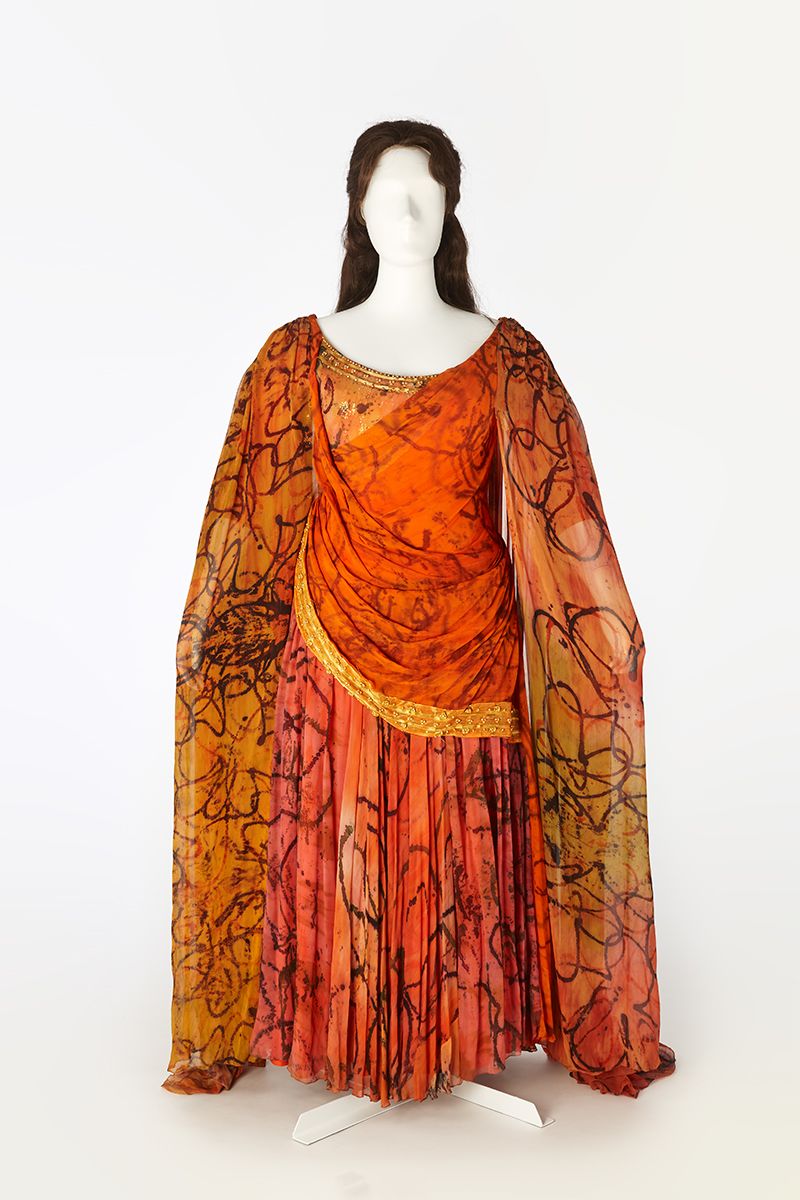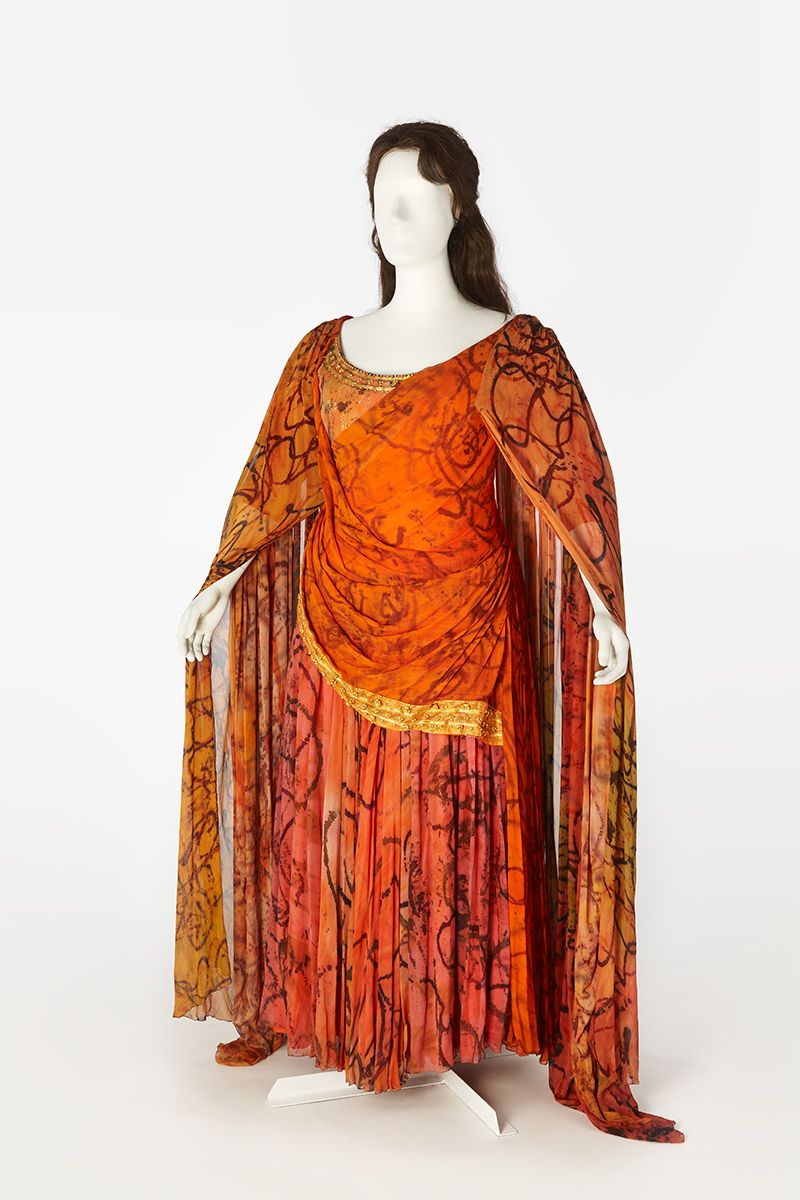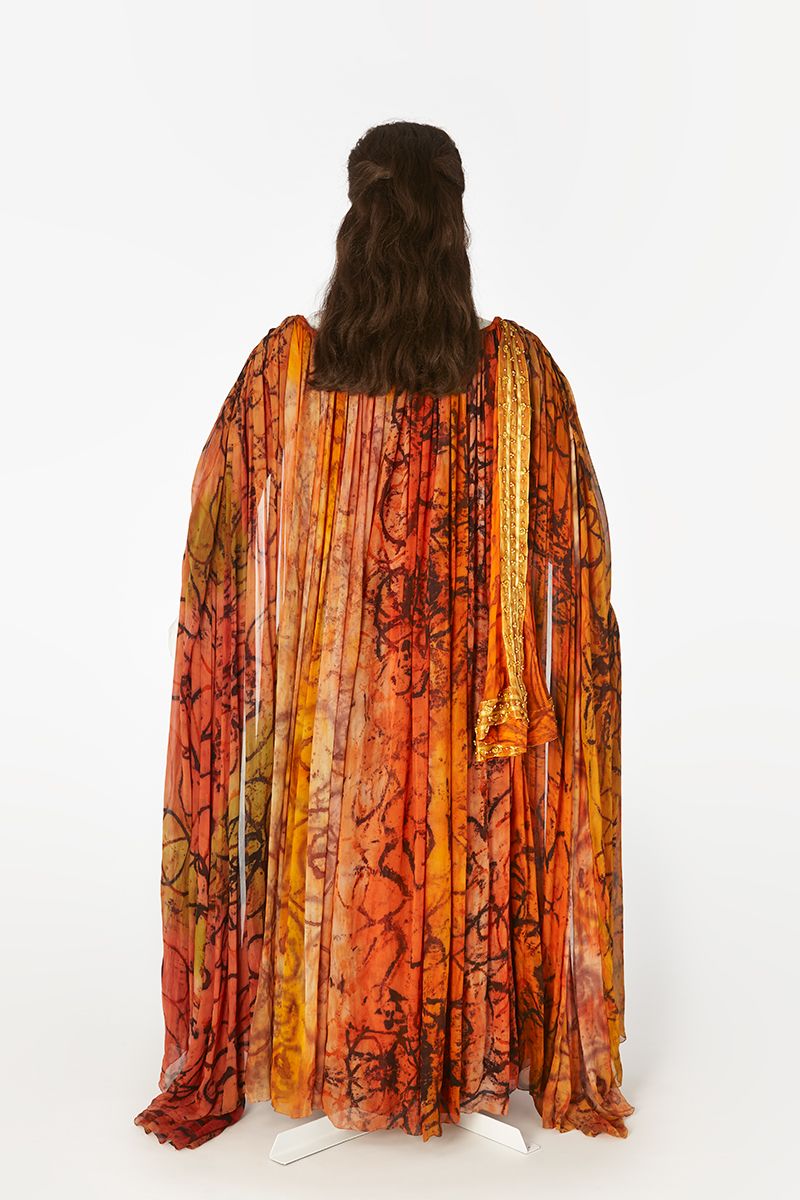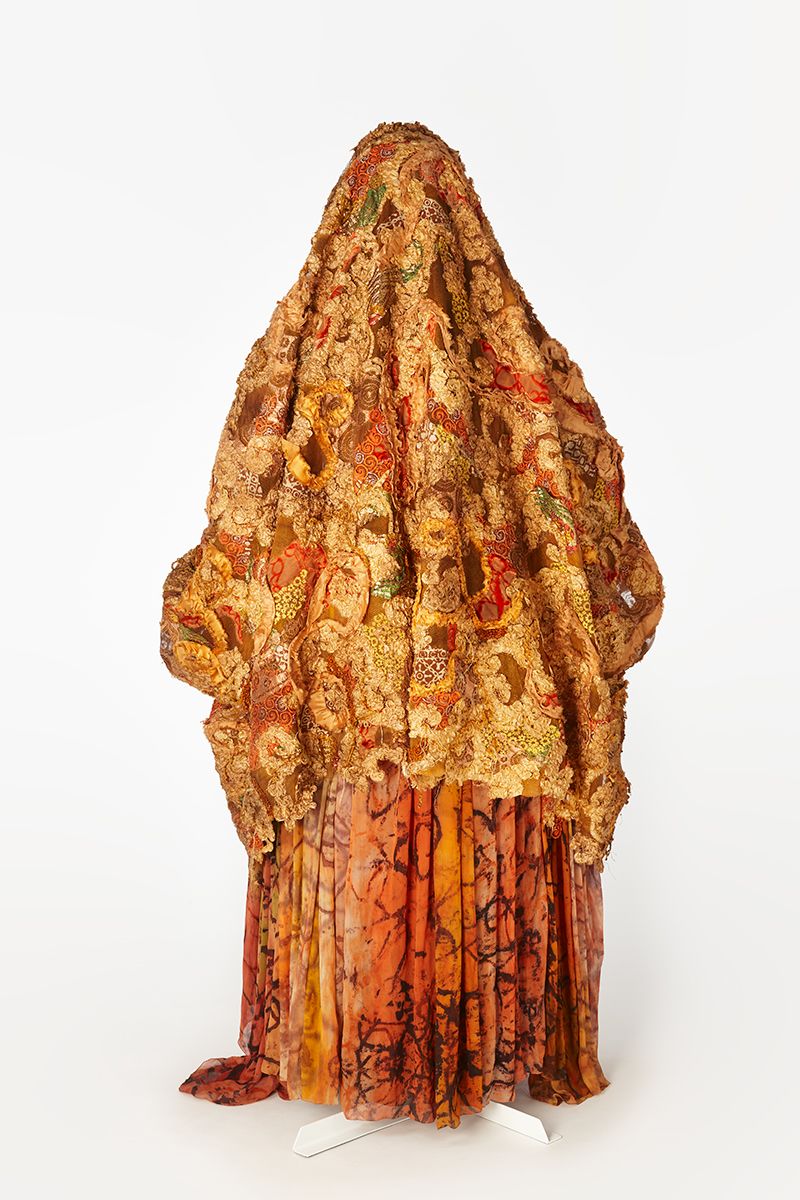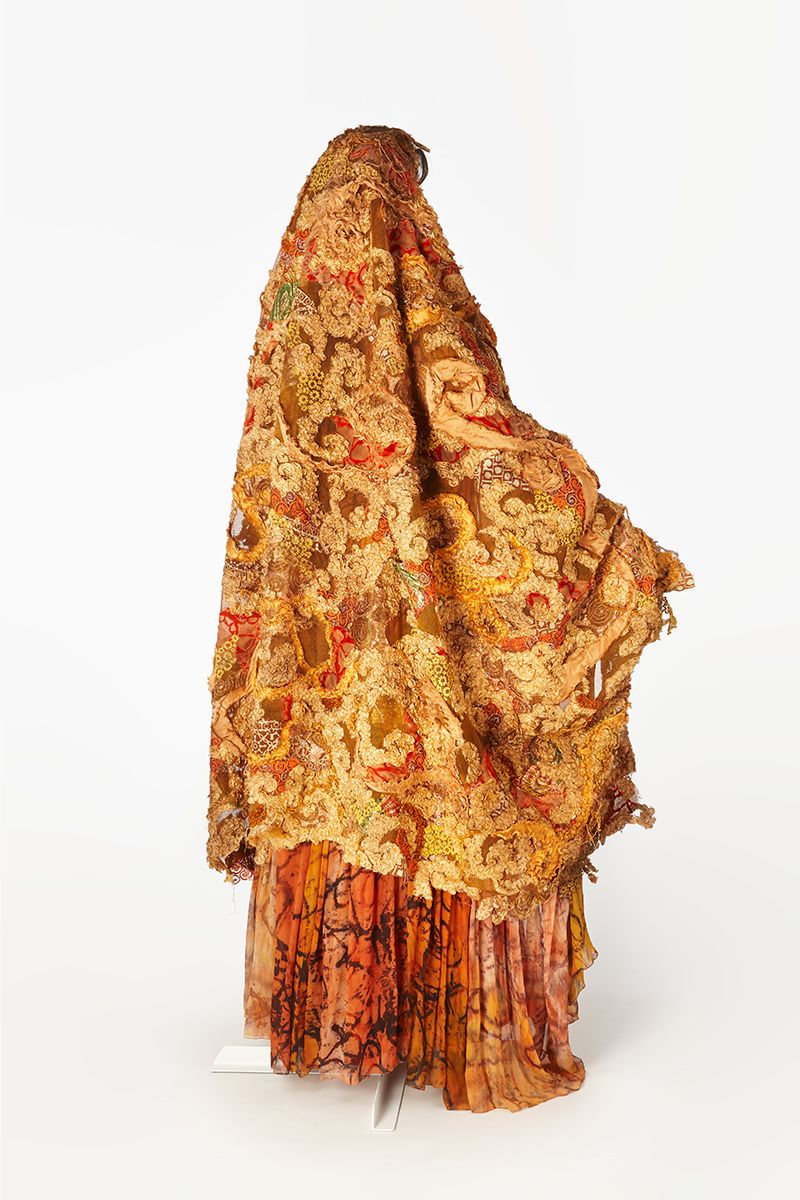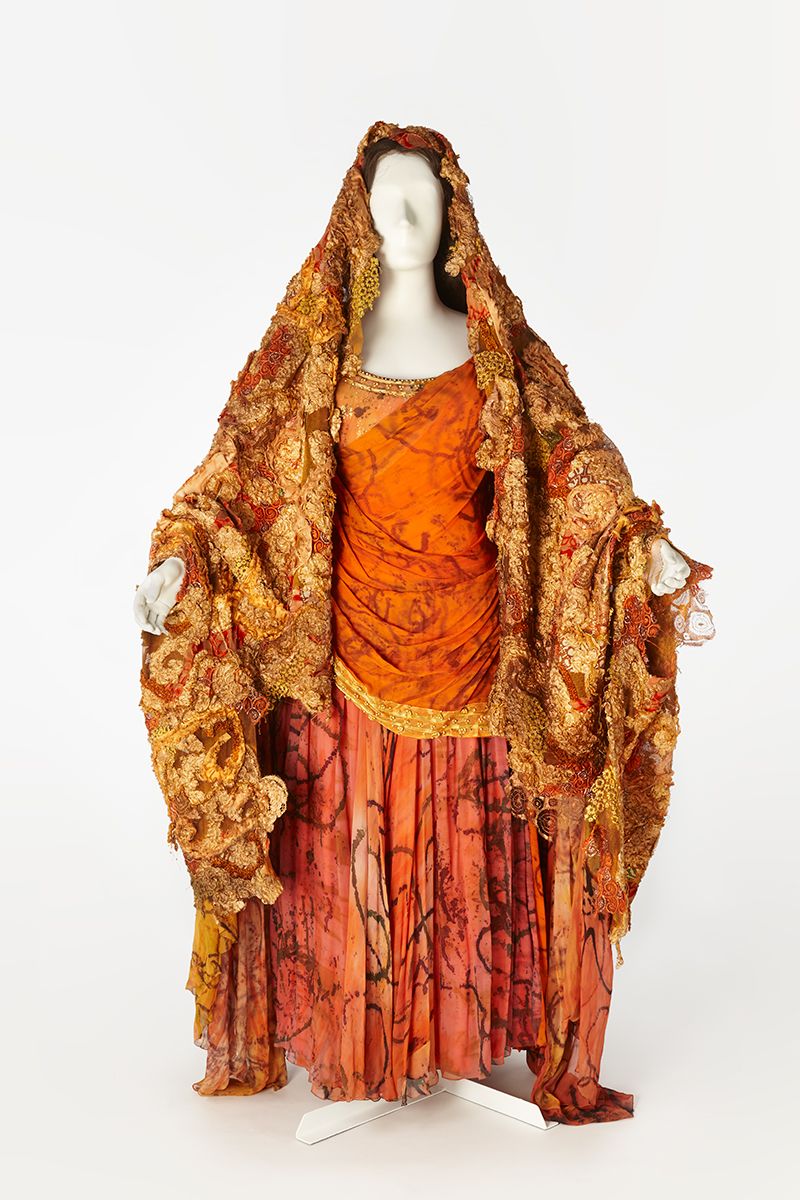 "The designer needs to sum up very quickly the adjustments to be made to give the creation life and reality on the figure of the opera singer, as does the cutter and fitter in the operatic wardrobe department."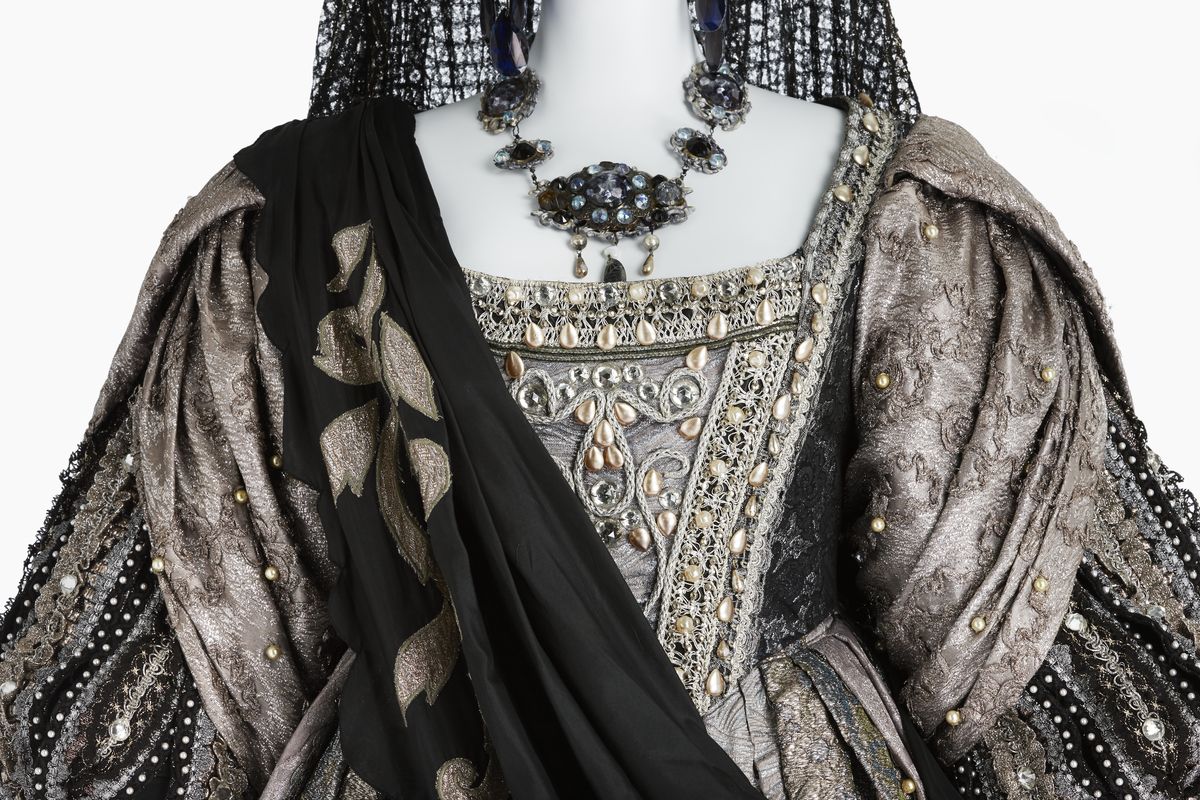 Costume for the title role of Lucrezia Borgia, The Australian Opera, 1977.
Designed by Kristian Fredrikson and made by William Paterson.

Gift of Opera Australia, 2019
Australian Performing Arts Collection
Arts Centre Melbourne
The Role
Joan Sutherland performed the role of Lucrezia Borgia many times during her career making her debut as the "notorious murderess" in Vancouver in 1972. Challenging both musically and dramatically, the role of Lucrezia Borgia requires a significant level of artistry along with stamina as the the opera's most famous and difficult aria brings the tragic story to an end.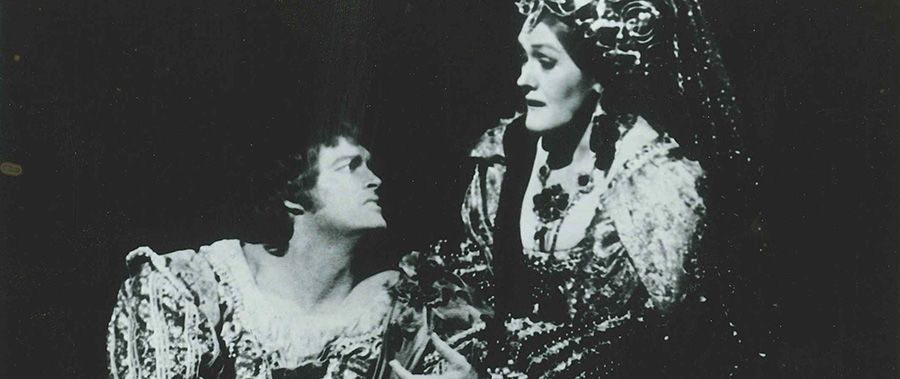 The Production
The Australian Opera spared no expense on a brand new production of Lucrezia Borgia in 1977. Director George Ogilvie brought a wealth of dramatic knowledge to this work having spent the previous five years as Artistic Director of the South Australian Theatre Company (now the State Theatre Company of South Australia). All ten performances were sold out with devoted fans sleeping outside the Opera House to secure a ticket.
The Costume
The costumes for this production were the first of Joan Sutherland's to be designed and made by The Australian Opera's wardrobe department, which was run at the time by William 'Bill' Paterson. From then on, Paterson fitted and made all of Joan Sutherland's costumes when she appeared with the company. Designer Kristian Fredrikson's extraordinary eye for detail required multiple fabrics to be patch-worked together before construction began on these costumes.
"She was so easy to work with. She would go in with Bill for a first sitting with the designer, and you would hear laughter... She may have said, 'It's a bit tight, a bit low, or a bit high', but she would go with the designer."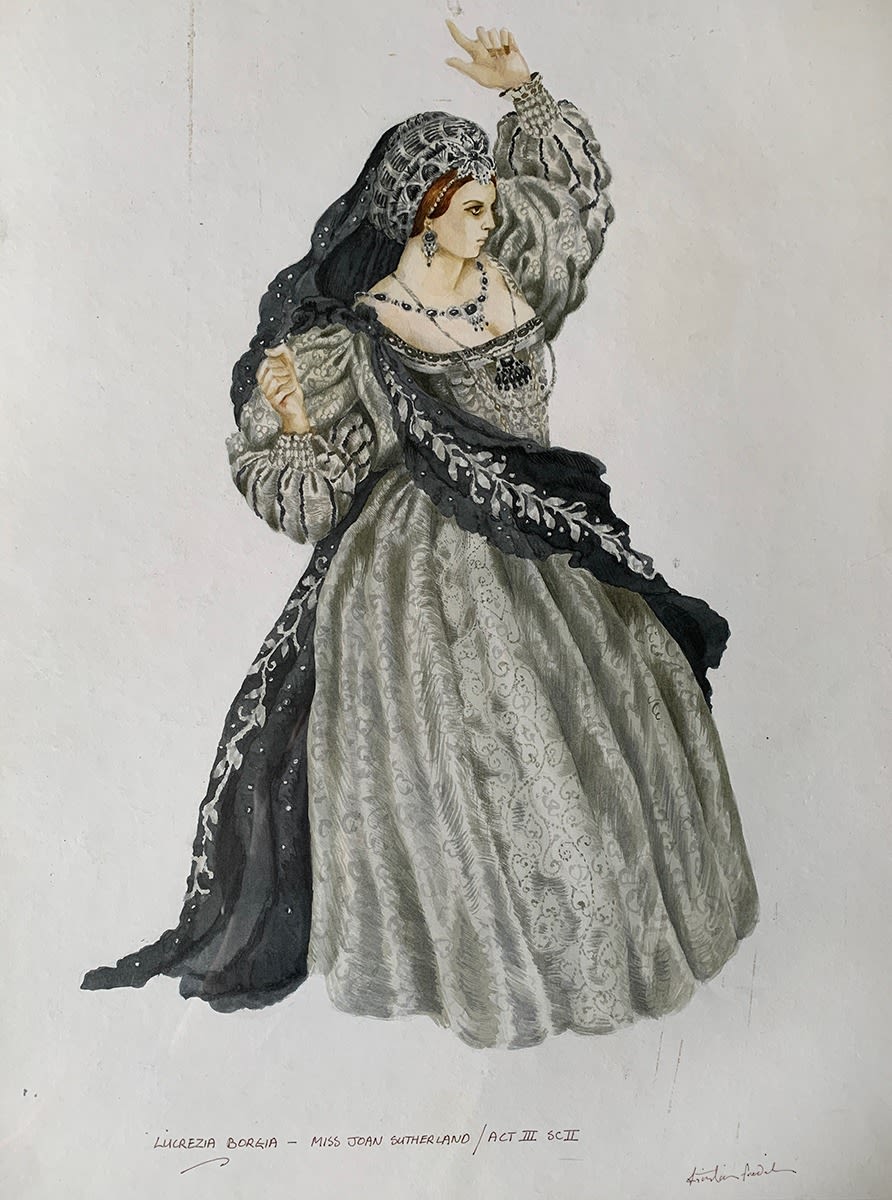 The Designer
Born in New Zealand, Kristian Fredrikson attended art classes at Wellington Polytechnic College while working as a journalist and critic in Wellington newspapers. In 1963, during an Australian Ballet tour of New Zealand, Fredrikson met with Artistic Director Peggy van Praagh who subsequently invited him to come to Australia to design her staging of Aurora's Wedding (1964). He went on to become one of Australia's most distinguished performing arts designers, whose 40 year career encompassed ballet, opera, theatre, film and television.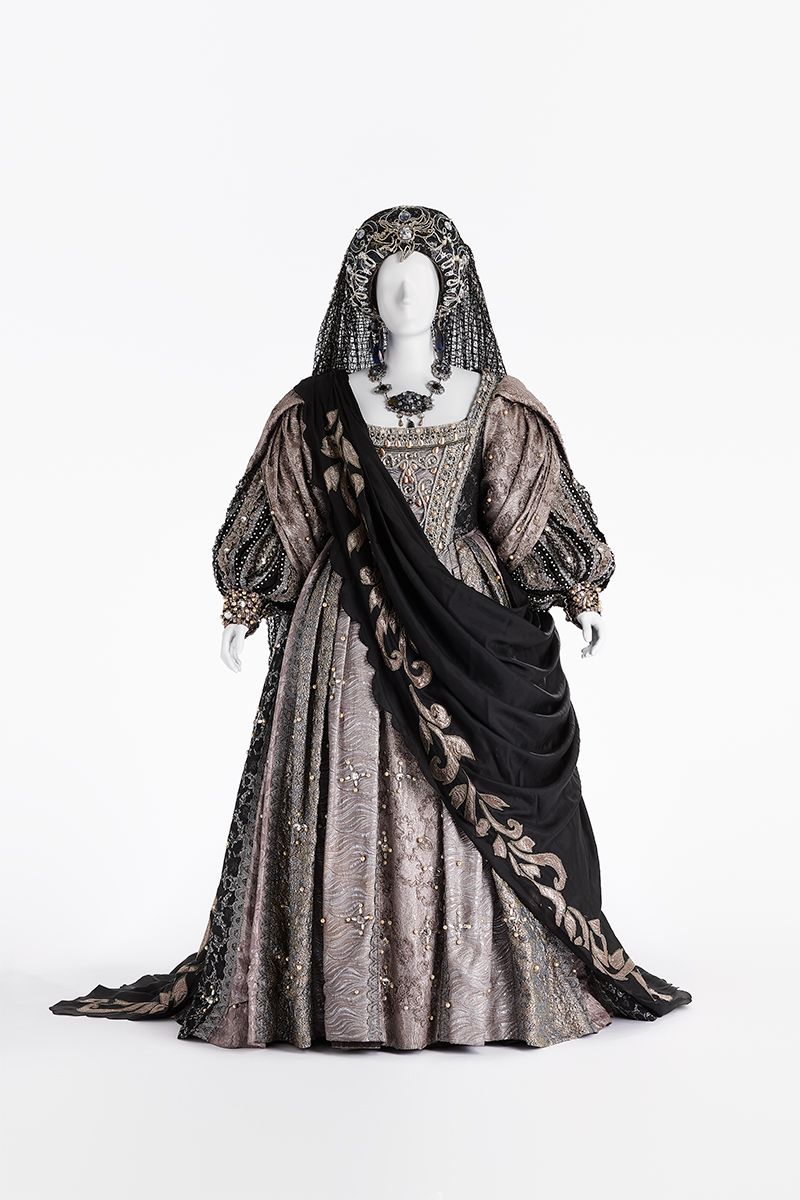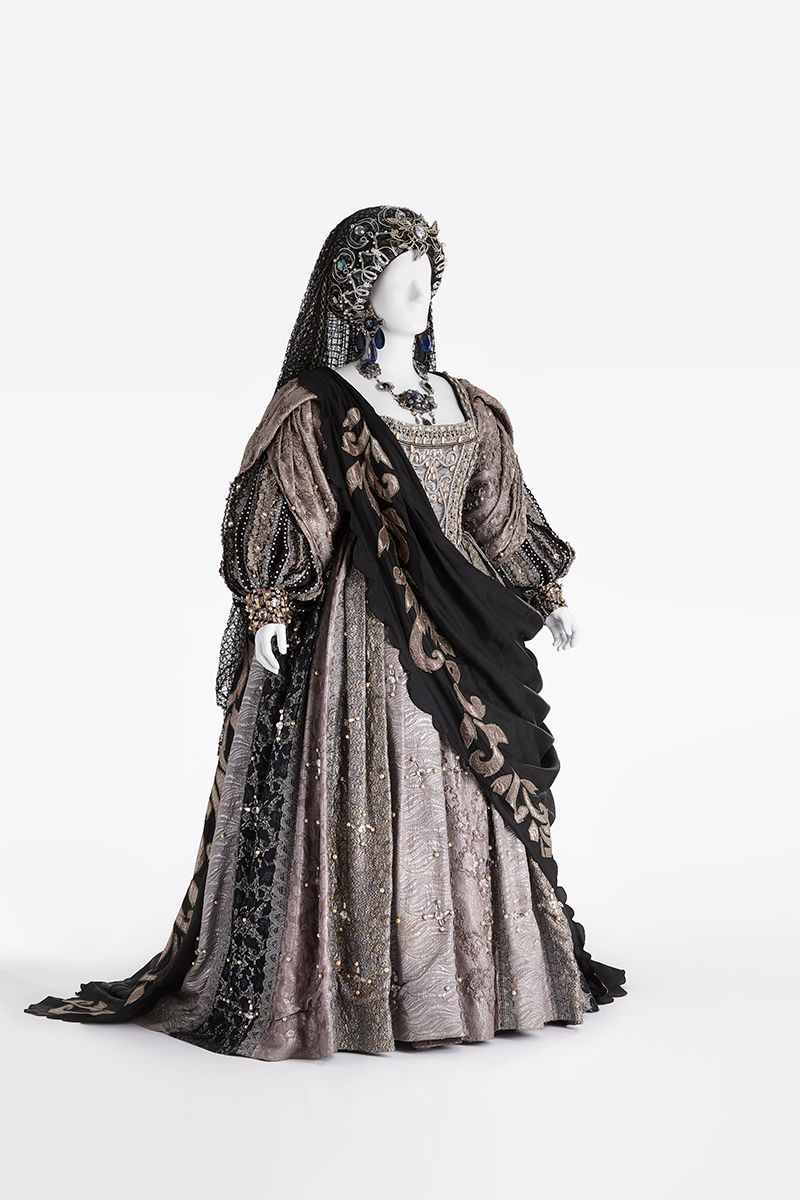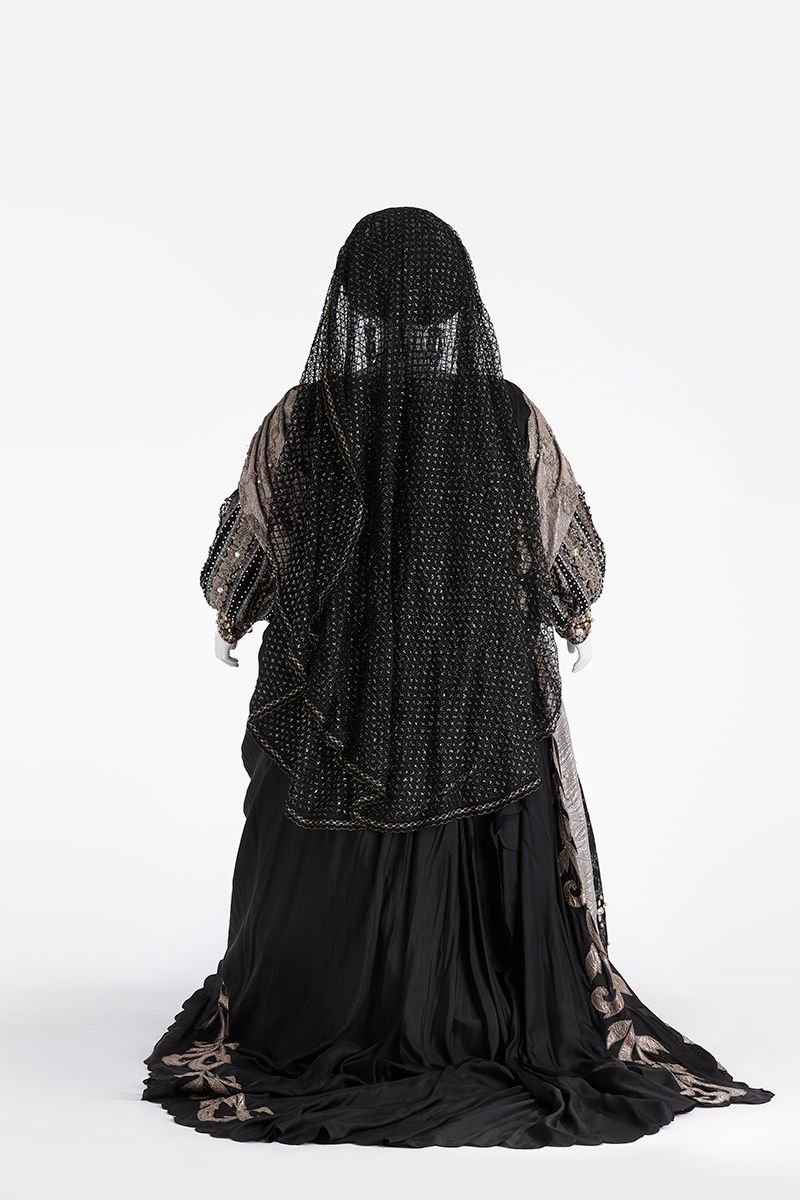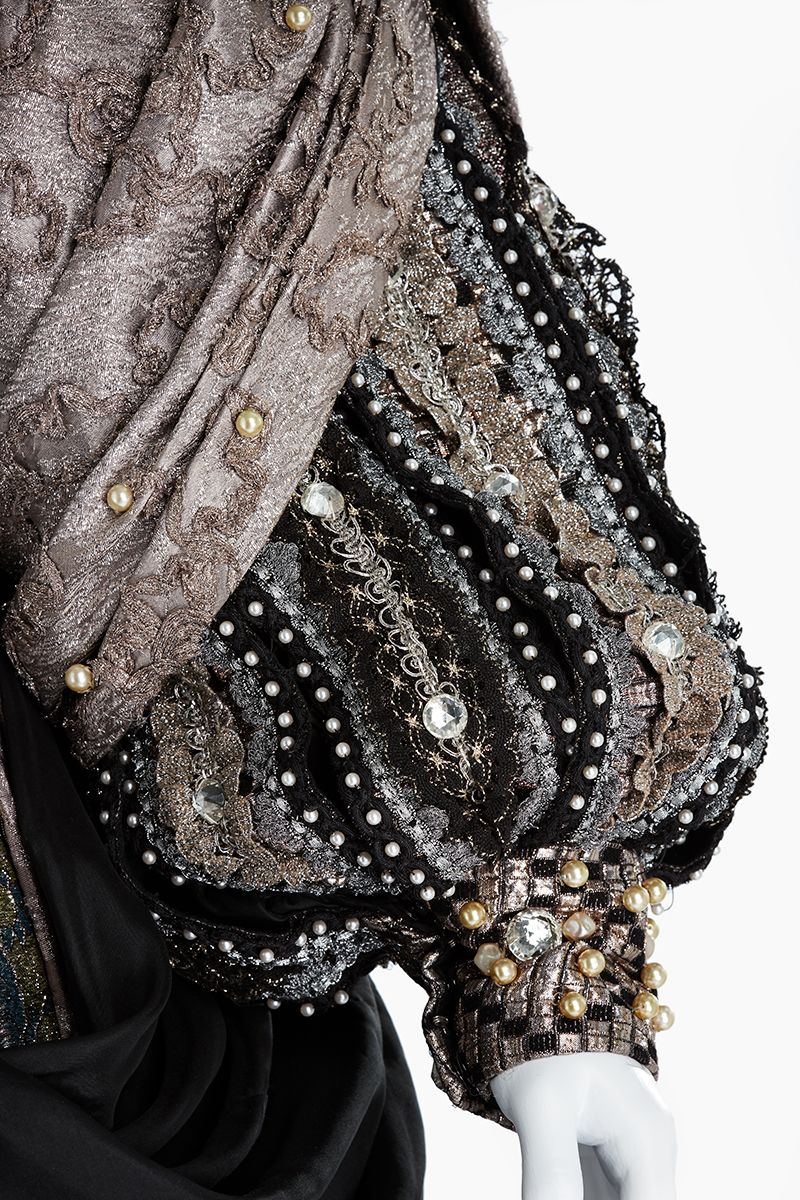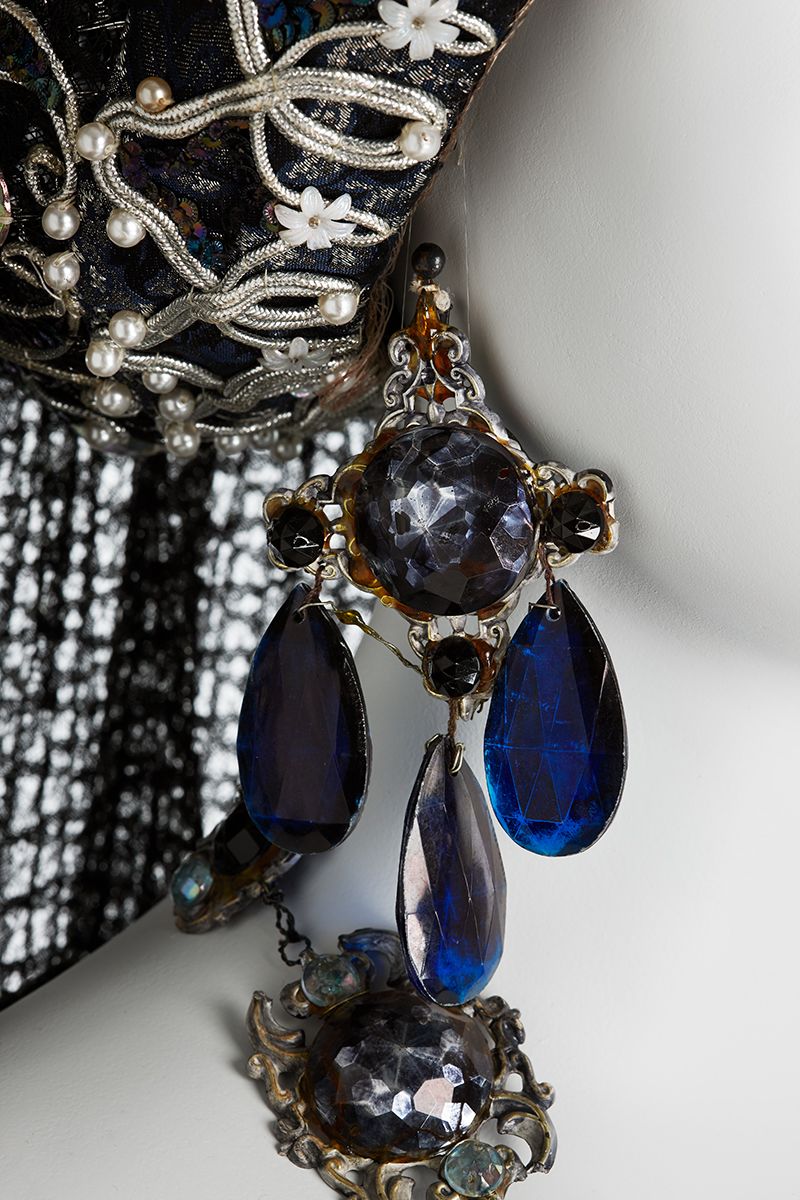 "Although long hours are spent learning the vocal and musical intricacies of diverse roles, there is never a lot of time to become used to and manoeuver the frequently cumbersome costumes. As the standard operatic repertoire is predominantly set in past centuries, one must learn to cope with wearing hooped skirts."
Digital Future
Photogrammetry, 3D scanning, macro photography and VR prototyping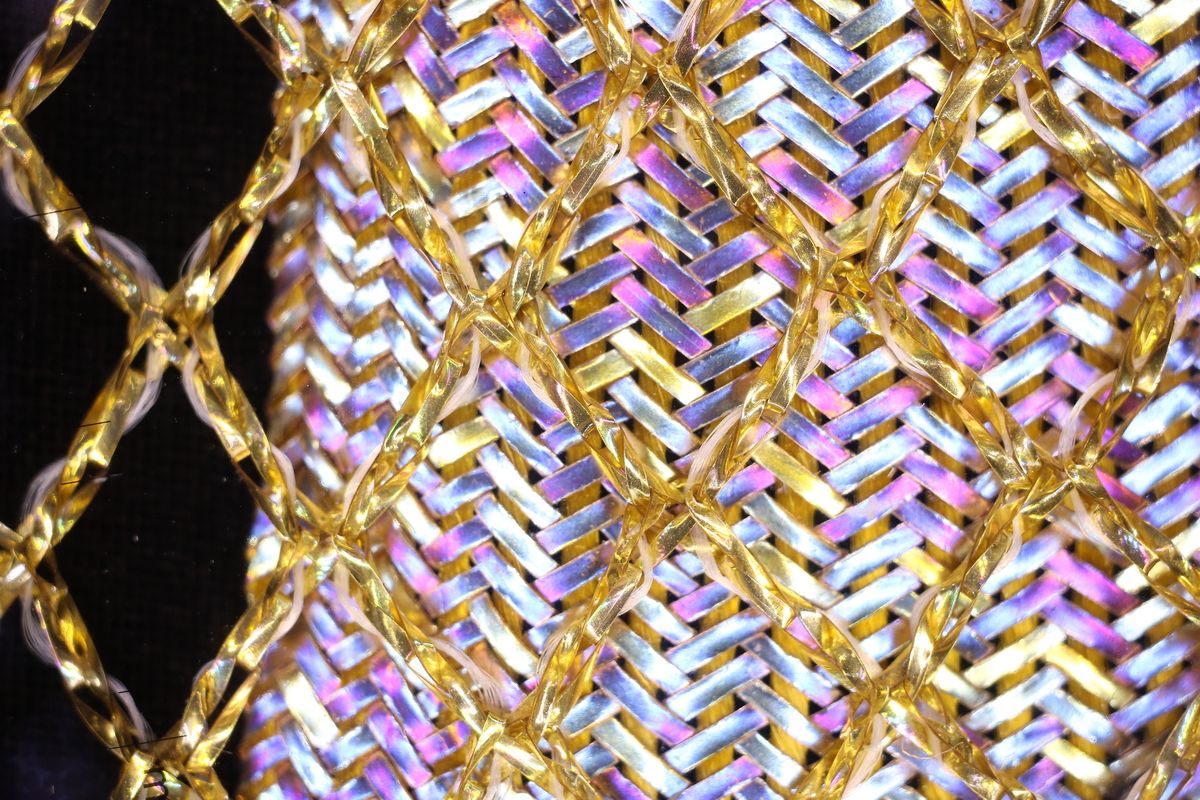 "Being able to 3D digitise, or scan, these artefacts means that they can be readily shared over the internet with museums, or even in people's homes, all over the world."
Macro photograph, detail of shawl - Lakmé
Macro photograph, detail of embroidery on net backing - Lakmé
Macro photograph, detail of bugle bead strands over silk chiffon gown - The Tales of Hoffmann
Digitising for the future
Working closely with Deakin University's School of Engineering Masters students, and researchers from the School's CADET Virtual Reality Lab, collections and curatorial staff at Arts Centre Melbourne have been exploring various advanced methods of capturing costume through 3D scanning and photogrammetry.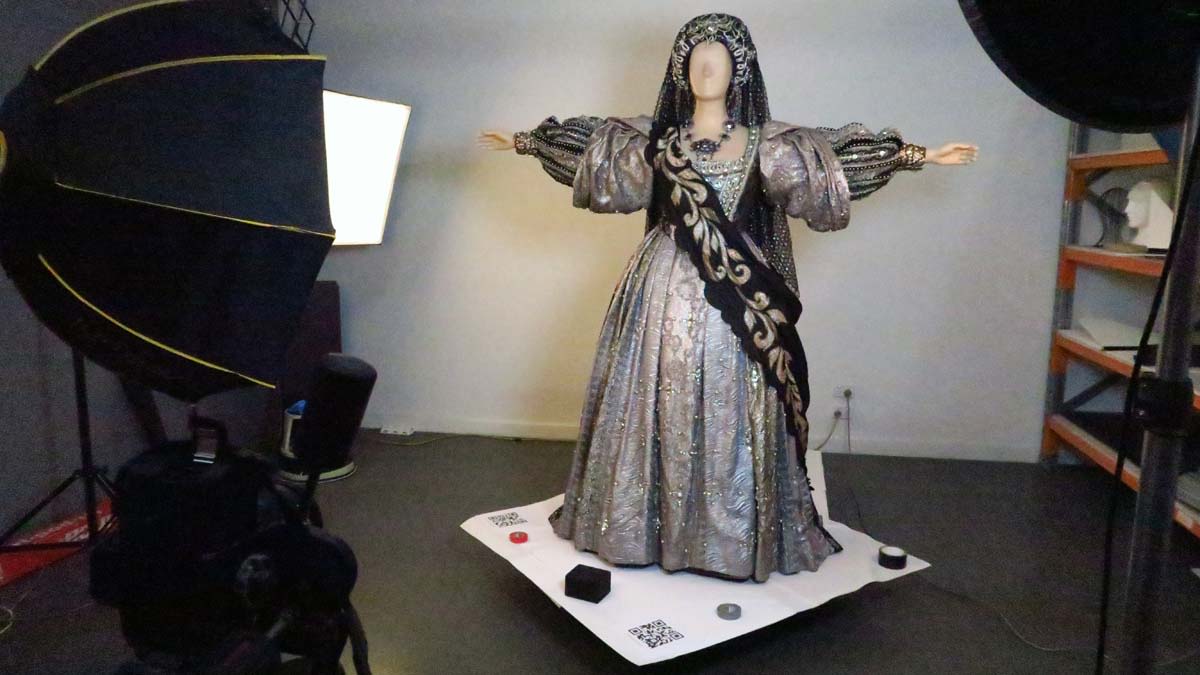 3D scanning costumes allows details to be captured in high-definition and creates a permanent digital record. It is a method of preservation that facilitates future research and access, allowing replicas and models to be made, long after the costumes themselves are too fragile to handle.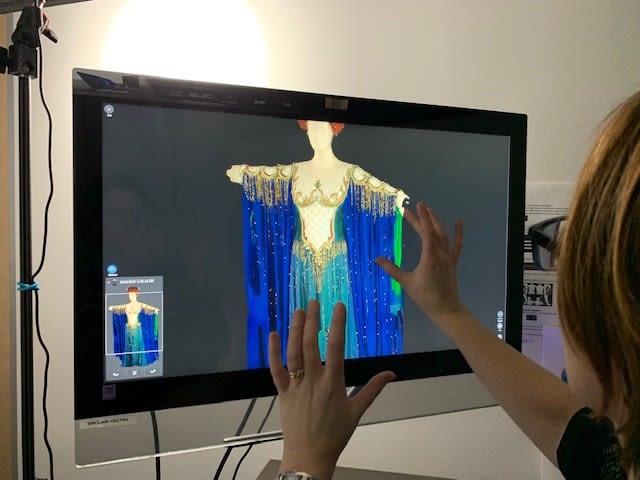 Using the one-of-its-kind in Australia, VECTRA imaging machine at Sinclair Dermatology, Sutherland's costumes have been documented on a macro level, providing highly detailed imagery for preservation plans and future audience engagement through immersive experiences. A virtual reality (VR) prototype featuring the 3D models produced by Deakin University is in development.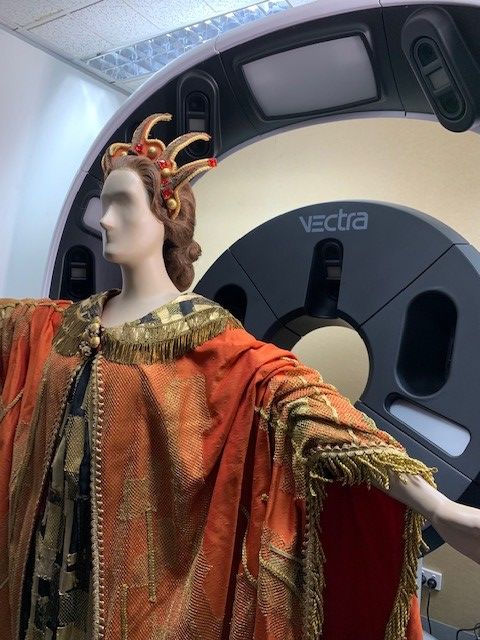 Interactive 3D models
Use your touch screen or mouse to zoom around the 3D models.
Fabric from Semiramide costume
Optimised for mobile viewing
The following high resolution 3D scans are around 20MB each so best viewed on a good WiFi connection in Chrome or Safari.
Just a moment while we dress the mannequins...
3D model of Lakmé costume
3D Model of Lucrezia Borgia
Explore more interactive 3D models from the collection on the Pedestal3D website
Discover more Dame Joan Sutherland costumes from the Australian Performing Arts Collection

With special thanks to
Dr Kaja Antlej, A/Prof Ben Horan, Damien Elderfield & Masters Students Dhrumil Parikh, Ibrahim Itani, Maulik Chedda, Nandish Parikh and Shubham Singh - Deakin University
Richard Bonynge AC, CBE
Trish Butterworth
Deborah Cheetham AO
Ruth Jaeger
Fiona Janes & the Joan Sutherland & Richard Bonynge Foundation
National Film and Sound Archive
Opera Australia
Public Records Office Victoria
Michael Rampe - Pedestal 3D
David Richards Bequest
Ricky Robinson - Shorthand
Prof Rod Sinclair & Rebecca Davies - Sinclair Dermatology
Michael Stennett
Frank Van Straten AM and Adrian Turley
Jeremy Vincent
Narelle Wilson & Selina Ou - Costume Photography
Acknowledgements
Australian Performing Arts Collection
Margot Anderson, Curator - Dance & Opera
Chrissy Chan, Coordinator - Rights & Licensing
Rowena Craick, Collections Information Systems Administrator
Karen Fisher, Conservator
Dorela Gerardi, Project Manager - Documentation
Ria Green, Registrar - Theatre & Popular Entertainment
Joseph Griffiths, Display Coordinator
Samantha Hamilton, Head - Collections Preservation & Access
Ari Hunter, Assistant Registrar
Erina McCann, Conservator
Jenni Meaney, Project Manager - AMV Multimedia Content
Luke Monteiro, Digital Content Coordinator
Miriam Troon, Collections Manager
Megan Williams, Project Manager - APAC
Fiona Wilson, Registrar - Dance & Opera

© Copyright Arts Centre Melbourne 2020. All rights reserved.
Arts Centre Melbourne have used reasonable endeavours to identify the owners of all copyrighted materials.
If you have any queries, please contact: researchservice@artscentremelbourne.com.au